Anaka Aiyar, a postdoctoral associate with the Tata-Cornell Institute for Agriculture and Nutrition (TCI) at the Charles H. Dyson School of Applied Economics and Management, was honored by Cornell University's Office of Postdoctoral Studies with the 2019 Postdoctoral Achievement Award for Excellence in Leadership.
This article originally appeared on the Dyson BusinessFeed.
Aiyar was recognized with a plaque and $500 award by the Postdoc Achievement Awards Selection Committee at an awards reception in September.
At a glance:
Award received
Postdoctoral Achievement Award for Excellence in Leadership
Awarding body
Cornell University's Office of Postdoctoral Studies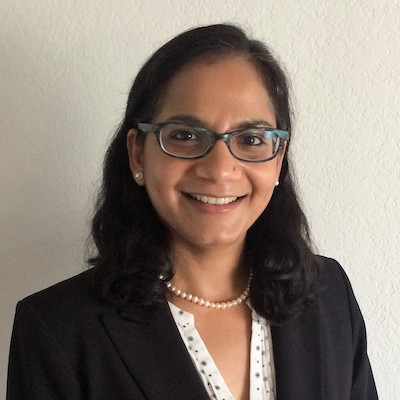 Recipient
Anaka Aiyar
About Anaka Aiyar
Aiyar obtained a master's and PhD in economics at the University of California, Riverside, and a master's of science in economics at the Madras School of Economics at Anna University in Chennai, India.
Her research interests lie at the intersection of health and development economics, and her research focuses on studying the direct and indirect impacts of policies on improving health, income, and food and nutrition security. Prior to earning her PhD, Aiyar worked for nearly half a decade in India on field-based action research projects, impact evaluations of government policy, and market research for social entrepreneurs. Learn more about Aiyar at her personal website.
About the award
The Postdoc Achievement Award for Excellence in Leadership recognizes postdocs who demonstrate innovative, initiative-driven leadership impacting their academic, work, or community environments. Those who receive this award have shown a commitment to developing academic and civic responsibility in themselves and others with an emphasis on equity and inclusion.
"This award recognizes the excellent work Anaka did in coordinating, managing, and authoring Transforming Food Systems for a Rising India," said Dyson professor and TCI founding director Prabhu Pingali, who holds a joint appointment in the Division of Nutritional Sciences.

Read more about the award and Aiyar's nominations on the TCI blog..
Lynn Perry Wooten, the David J. Nolan Dean and professor of management and organizations at Dyson, congratulated Aiyar, noting that "her research on transforming food systems in India exemplifies Dyson's ethos of being in the business to make the world a better place."
"I am very grateful TCI recognized my dedication and contribution to the great work that they are doing in India," said Aiyar. "This award recognizing contributions made by postdocs in their labs, departments, and groups is a great initiative by the Office of Postdoctoral Studies."
Aiyar also credited her colleagues' dedication and support in producing the book. "It was a pleasure and a rich learning experience working with my co-authors," Aiyar said. "Each of them came with their own expertise, both in terms of knowing the context [India] and in terms of knowing the substantive issue (agriculture, health, and economic development). They brought their enthusiasm and dedication to the development of the multidisciplinary ideas through multiple rounds of reviews on each of the chapters. This helped create the book that has become widely downloaded by multiple types of audiences."
About the book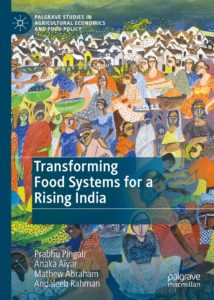 Released in May 2019, the book's co-authors include Aiyar, Pingali, TCI assistant director Mathew Abraham, and TCI postdoctoral associate Andaleeb Rahman. Available both in print and as an open-access e-book, Transforming Food Systems for a Rising India (Palgrave Macmillan) "examines the interactions between India's economic development, agricultural production, and nutrition through the lens of a 'Food Systems Approach,'" according to the publisher's description. The publisher also notes that the book:
Brings a unique food systems perspective to the structural transformation debate by using an integrative framework to address food security;
Extends the "farm to plate" view of food systems by integrating environmental sustainability with production and health and nutrition with consumption;
Provides goals and sets a food systems agenda for 2030 and 2050 for different sub-national units in India, emphasizing policy and institutional interventions.
Transforming Food Systems for a Rising India is important because "it addresses some of the major food security challenges confronting India, not just today but also in coming decades," Aiyar said. "We use a multi-disciplinary approach to provide insights into transforming the Indian food system so that it can deliver on the promise of food security while reducing regional inequalities, altering the path of climate change, and reducing the dual burden of malnutrition in the coming decades. By focusing on addressing the state-level experience in achieving food security, our book provides insights for other countries that have similar development experiences to states (provinces) in India. By making it open access, we hope to reach those living in developing countries. We hope that those working on food systems development are able to use insights in their own work and activism. Finally, we hope to reach students studying these important issues."
Pingali noted that, as of late August, the e-book had already been downloaded more than 27,000 times.
Read more about the book and its authors or download Transforming Food Systems for a Rising India.