Aiyar recognized for excellence in leadership through Postdoc Achievement Award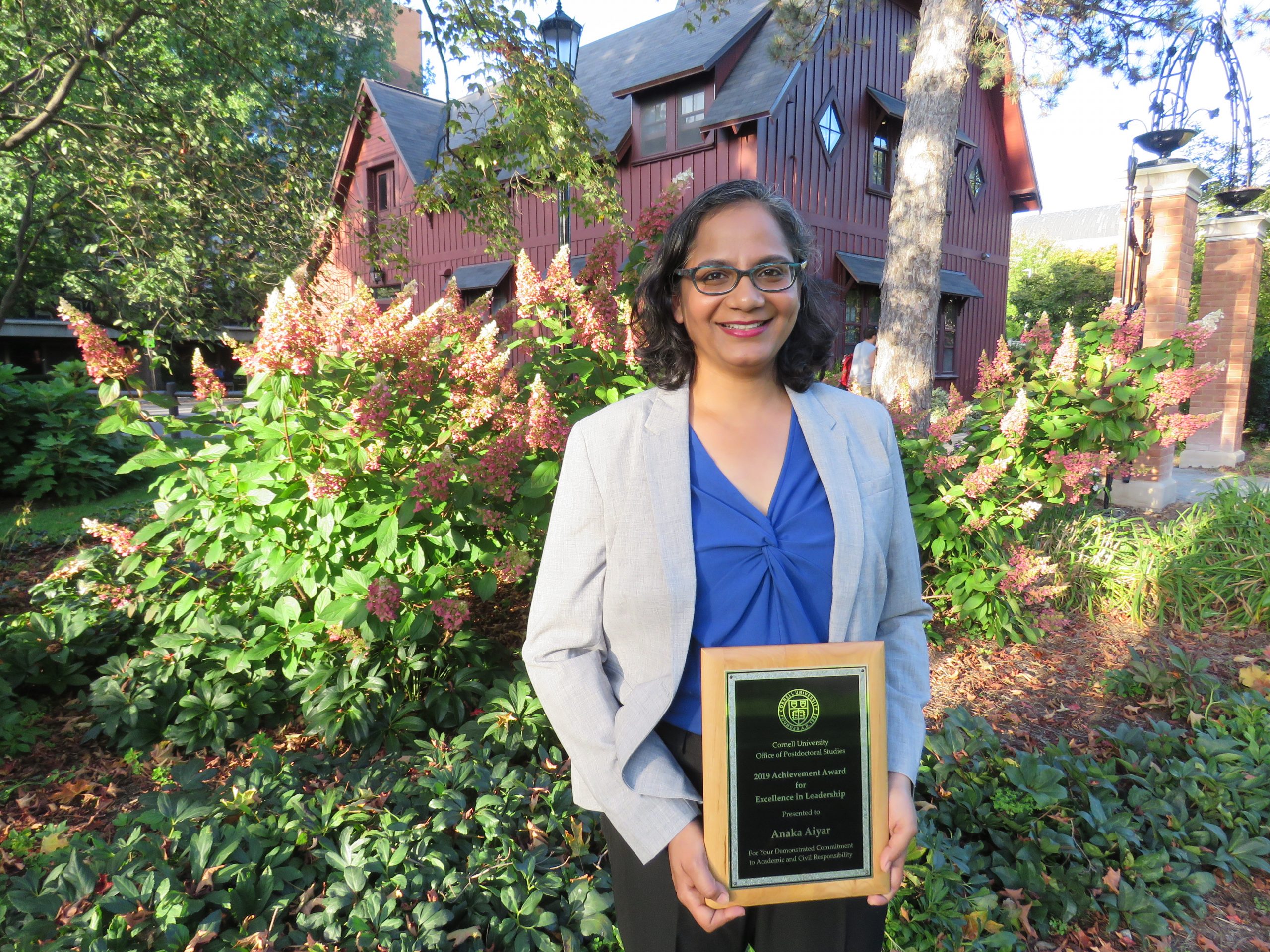 Anaka Aiyar, postdoctoral fellow at the Tata-Cornell Institute and the Dyson School, has been awarded the Postdoc Achievement Award for Excellence in Leadership.  Awardees are nominated by letters from faculty, students, and colleagues and selected through a competitive review process facilitated by the Office of Postdoctoral Studies at Cornell University. Awards are announced during National Postdoc Appreciation Week.
Anaka Aiyar joined the Tata-Cornell Institute for Agriculture and Nutrition (TCI) and the Dyson School of Applied Economics and Management in Fall 2016. Since that time, she has been a hardworking, dedicated, and integral member of our team as well as a collaborative research partner, productive intellectual and committed mentor.  By every measure, TCI has benefited by having Dr. Aiyar in our community.
The impetus behind nominating her now for the Postdoc Achievement Award for Excellence in Leadership is born from the stellar contribution she made to the completion of the book Transforming Food Systems for a Rising India. Since its publication and launch in May 2019, the book has been downloaded over 12,000 times. Its timely release and quality of scholarship could not have been possible without the central role Anaka played. The book has received wide spread praise by the Development Economics community. Cornell Prof (Emeritus) and World Food Prize Laureate Per Pinstrup-Anderson indicated that it is a "must read" for anyone interested in "the paradoxes of the Indian development story" and why India is an outlier in its inability to significantly reduce undernutrition despite rapid economic growth. The book's global launch at the International Food Policy Research Institute (IFPRI) in Washington DC, which was organized by Anaka, had a worldwide audience of around 630, making it one of the most popular events organized by IFPRI over the past year.
She has done an incredible job shepherding the book from conceptualization to publication, doing so within only a year. She marshalled the collaborative effort by bringing people together, resolving conflicts, and getting her co-authors on the same page. Inclusivity is important to Anaka, which was evident in her insistence that every viewpoint was heard and given due consideration, skillfully addressing disagreements through consensus building and debate.
During the writing of the book, Anaka always led by example. She was the first to turn in her assignments and complete her responsibilities. She spent her remaining time encouraging and supporting co-authors to do the same. She was patient but firm in ensuring the deliverables came through, and the deadlines met. Her leadership here led to the book being published in record time, surprising the editors and the publishers.
Anaka has gone above and beyond to make sure this work reaches out beyond Cornell. It is one thing to do the research, and it is another to get it out into the world.  Anaka understands this, and she has taken personal responsibility to foster the dissemination of this research.  The book was always meant to make a difference in the real world and in the society of academics, development practitioners and policymakers. She's gone the extra mile to create blogs and actively promote the book on social media (on twitter @AiyarAnaka) as well as present the findings of the book to other institutes and researchers in the U.S. and in India. She also organized two major launches, the hugely successful global book launch at IFPRI, Washington D.C, and the well-attended launch event at the Dyson School at Cornell University.
Dr. Anaka Aiyar has driven our success and she has done so with patience, diligence, integrity and enthusiasm.  She deserves to be publically recognized for her efforts.  Join TCI in congratulating Anaka Aiyar for the Postdoc Achievement Award for Excellence in Leadership. 
Nomination Testimonials
Founding Director, Tata-Cornell Institute for Agriculture and Nutrition (TCI); Professor, Applied Economics and Management at the Dyson School, jointly appointed at the Division of Nutritional Sciences
"In these years as her supervisor and mentor, I have known Anaka Aiyar to be an excellent scholar, a great colleague, a brilliant mentor, and a true leader.
Anaka is selfless in giving her time to all activities we undertake, to colleagues that need support and to students that need guidance, making her a great mentor and an asset to our Institute. Nurturing future scholars has been central to my responsibilities for many decades as a researcher and teacher and mentees like Anaka reassures me that the future of mentorship is in good hands.
Also, as an author of many books, I know the challenges that bringing out a high quality publication entails, especially with three other co-authors. I chose Anaka to be the main coordinator of the project because I knew it was a challenging task, and she was capable of handling it. Her work exceeded my expectations by a long shot. During the conceptualization and writing stages, Anaka coordinated our meetings and debates, bringing consensus from disparate viewpoints and presumed intellectual impasses. Here I saw her acumen as an original thinker and scholar that enabled consensus building and sense-making in the formulation of original ideas.
For her exceptional contribution to TCI, her leadership and mentoring role at the Institute, tenacity as a scholar and her dedication to her work and beliefs, I nominate Anaka Aiyar without reservations for the Postdoc Achievement Award."
Associate Professor of Applied Economics and Management at the Dyson School; Acting Director, Tata-Cornell Institute for Agriculture and Nutrition (Fall 2019); Tata-Cornell Institute Faculty Fellow
"From the time she arrived at Cornell as a Postdoctoral Associate, Anaka has distinguished herself as a scholar who is committed to academic excellence and interested in the growth of others in her research community. A clear sign of her commitment as a researcher is evidenced by the recent publication of an important book – Transforming Food Systems for a Rising India. The high level of diligence and creativity Anaka put into this (complex) book as the second author provides a clear indication of her dedication as a scholar. She was instrumental, both substantively and organizationally, in bringing the volume to fruition.
Demonstrating an interest in helping aspiring scholars, Anaka provides a positive role model and serves as an intellectual catalyst for or TCI research community. In our weekly seminary series, Anaka is one who regularly introduces ideas and poses questions that help advance our thinking about how the challenging task of conducting research in the Indian context may be better conceptualized and more effectively implemented. In closing, I would like to state that I see Anaka as someone who is most worthy of the kind of recognition offered by the Postdoctoral Achievement award."
Professor of Operations Management at the Johnson Graduate School of Management; Tata-Cornell Institute Faculty Fellow
"Anaka Aiyar came to the Tata Cornell Institute after receiving her Ph.D. in Economics from the University of California – Riverside. She was exceptionally well trained in econometric modeling, and possessed in-depth knowledge of the food and nutrition sector especially in underserved communities in developing countries and thus was able to hit the ground running. Within the short time at TCI, she was able to publish in reputed journals and edited volumes, and co-authored a book. She especially demonstrated amazing leadership, project management, team work, and intellectual skills in proposal, execution and publishing the book "Transforming Food Systems for a Rising India," which laid the foundation for near-term agriculture policy discussion in India.
Given her expertise in various research methods, enthusiasm for hands-on and on-site work, the ability to use technology-centric methods to collect data, and her collaborative skills, it is easy to see that she will be a highly successful scholar in the field of Development Economics and will help design policies that improve lives of people at the base-of-the-pyramid segment of the population that could and should benefit most."
Stephen B. and Janice G. Ashley Professor of Applied Economics and Management; International Professor of Agriculture, Charles H. Dyson School of Applied Economics and Management
"Dr. Anaka Aiyar has been a model post-doc during her time at Cornell. Let me comment on two different aspects of her performance that are especially noteworthy. First, I have seen firsthand her substantial contributions to the Tata-Cornell Institute for Agriculture and Nutrition (TCI). Along with the TCI Director, Prof. Prabhu Pingali, and two other TCI colleagues, Anaka wrote a brilliant new volume on Transforming Food Systems for a Rising India for the Palgrave Macmillan book series I edit. Dr. Aiyar gave a very compelling presentation of some of the material at the book launch seminar at Cornell in May. This is a major scholarly work that was clearly a team effort to which she contributed considerably.
Second, Dr. Aiyar routinely participates in research seminars across campus, well beyond the regular activities of TCI, signaling her intellectual curiosity and generosity towards other, more junior scholars. She has been a very faithful participant in the year-round development microeconomics seminar that I co-organize with Prof. John Hoddinott, in which Dr. Aiyar has always been an active and generous contributor, providing extensive, helpful written comments on the draft papers and grant proposals presented by other post-docs and grad students. Her insights and mentoring help advance others' development as scholars."
About the award
The Postdoc Achievement Awards "honor and showcase postdocs who have made outstanding contributions to community or organizational change and show a commitment to promoting equity and inclusion at Cornell and/or throughout society as a whole,"  according to the North American Center for the Integration of Research, Teaching, and Learning (CIRTL) at Cornell.
The award for which Anaka Aiyar was nominated – the Achievement Award for Excellence in Leadership – recognizes postdocs who demonstrate innovative, initiative-driven leadership impacting their academic, work or community environments. Those who receive this award have shown a commitment to developing academic and civic responsibility in themselves and others with an emphasis on equity and inclusion.
Awardees are recognized during National Postdoc Appreciation Week (September 16-20, 2019), through a ceremony and the gift of $500 and a plaque. The awards are co-sponsored by the Office of Postdoctoral Studies and the Office of the Vice Provost for Research at Cornell University.
About the awardee
Anaka Aiyar is a postdoctoral associate at the Tata-Cornell Institute at Cornell University, Ithaca, NY. Her research interests lie at the intersection of health and development economics. As a Health Economist, she is interested in identifying mechanisms to improve health care access and improve health for people living in developing countries. Her current research focuses on studying the direct and indirect impacts of policies on improving health, income, food and nutrition security. She completed her PhD in Economics at the University of California, Riverside.  
Learn more about Anaka Aiyar on her website or on twitter @AiyarAnaka.
By Jessica Ames
Jessica Ames is the Communications and Outreach Manager at the Tata-Cornell Institute.She tweets @TataCornell and @j_scott_ames.