Field notes: Visit to the Azadpur fruit and vegetable wholesale market
The United Nations' Sustainable Development Goal 12, responsible consumption and production, aims to halve worldwide food waste and reduce global food loss by 2030. When thinking about this goal, many questions arise, such as:
How is food loss and food waste defined?
What metrics and methods are used to determine a baseline and measure progress?
How does food loss and waste affect food security and nutrition?
Considering the dynamic and evolving Indian food system, I planned my summer of exploratory fieldwork to understand the context of food loss in India, with a focus on fruits and vegetables (which are micronutrient rich and tend to be more perishable). I began my work at the TARINA office in Delhi where I arranged to visit the Azadpur sabzi mandi (wholesale vegetable market). An Agriculture Produce Marketing Committee (APMC)-regulated mandi, the Azadpur mandi is often cited as the largest fruit and vegetable wholesale market in South Asia. So, this seemed like a good place to start my summer investigation to observe the conditions in which products are received and sold, and to learn about the perceptions of food loss at the wholesale market level.
A bustling market, rain or shine
Business at the mandi begins before sunrise with the arrival of fruits and vegetables from all over India plus international imports as well. Setting out early in the morning with TARINA Research Specialist, Vanya Mehta, and her husband, we arrived just after heavy rains had stopped. The mandi felt like its own city within New Delhi – a fruit and vegetable city complete with the familiar ambiance of crowds and traffic.
While most of the trucks within the market delivered products without cold storage, I noticed at the entrance to the market a line of refrigerated trucks, marked by the refrigeration unit at the top of the cab. Refrigerated trucks are important in the transport of perishable food items to maintain a cold chain from storage to wholesale market.
To further continue the cold chain, some items are brought into cold storage warehouses, which are privately owned. These warehouses allow for products to be stored at controlled temperatures and humidity to reduce degradation. Additionally, fruits and vegetables produce ethylene, which promotes ripening. Storage at low temperatures helps to reduce the rate of ethylene production and increase the product's shelf-life. However, cost is a major limitation of cold storage and maintaining the overall cold-chain.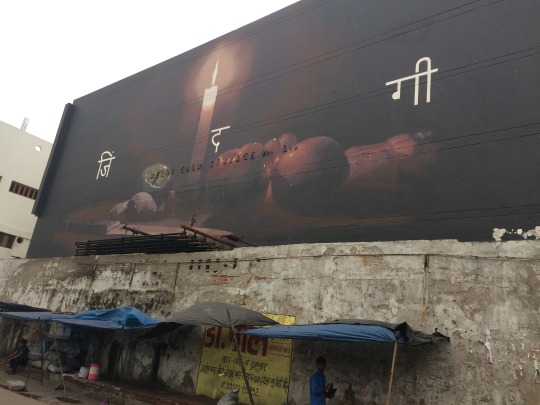 Figure 1. A painted mural for a cold storage warehouse seen from the main road outside the market entrance, with the tagline "Life" written in Hindi (Photo credit: Jocelyn Boiteau)
In an attempt to get a sense of the scale of produce varieties and quantities, I had browsed the daily bulletins made public on the market website, which provides information on products that enter the market including the product origin, weight, type of packaging, grade, and wholesale price range. I was particularly curious about the packaging and non-cold storage conditions of products, both of which are important to prevent losses from physical, physiological or pathological damage.
As we walked through the maze of market streets, I observed different types of packaging and storage practices. For example, more delicate products like tomatoes were often packed in plastic crates that allow a level of protection as well as ventilation. I also saw leafy greens, also a highly perishable item, wrapped in bundles and transported on carts.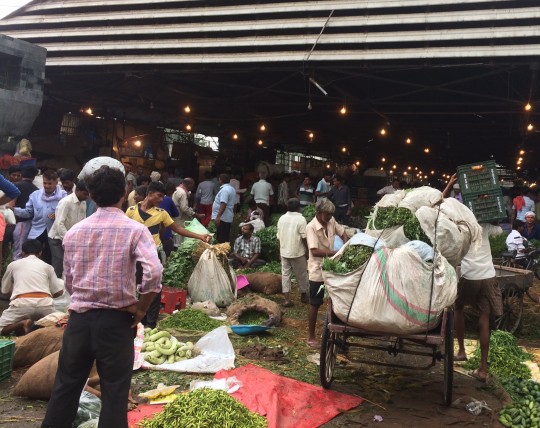 Figure 2. Plastic crates, burlap bags, and bundles are used to transport products (Photo credit: Jocelyn Boiteau)
Handling and storage in a fruit and vegetable city
The impact of the rains was evident as we entered the market. Lack of sufficient drainage led to standing water in between vendors.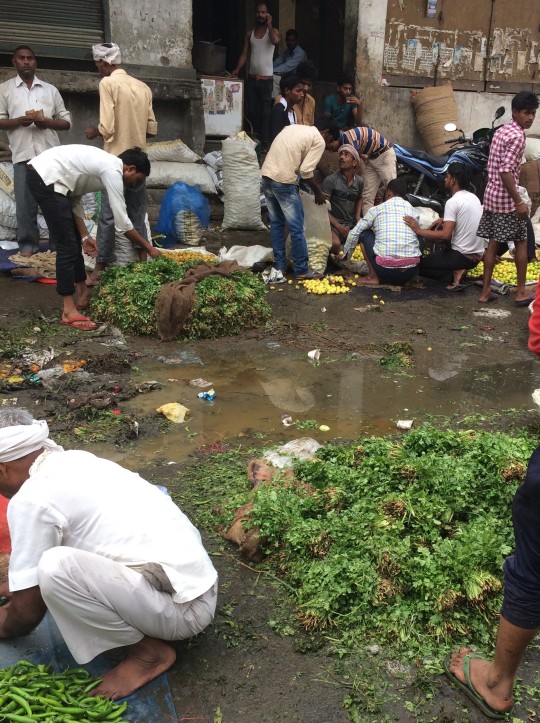 Figure 3. Morning rains leave standing water near produce (Photo credit: Jocelyn Boiteau)
Excess moisture is concerning because, especially when not well ventilated, moisture can allow for bacteria and fungi to grow, promoting decay and reducing the quality of the food product. Further, standing water close to food products, as pictured above, demonstrates the potential for produce to come into contact with unsanitary water. This could further increase the rate of deterioration, leading to quantity, quality and, ultimately, economic losses.
Discounting lower-grade products
Product grading is a process where products are rated on quality (e.g. presence of blemishes, disease/rot, bruises, size, color, etc.). At the wholesale market, product grade corresponds to price. Therefore, lower-grade products are sold at lower prices. We learned that often hotels, restaurants, and food processors will purchase lower grade vegetables and fruits. In speaking with a lemon wholesaler, they indicated that the demand for lower-grade products is higher during wedding seasons, as they are used to make dishes such as chutneys, as well as juices. What is not sold goes to the garbage where animals, such as cows, may choose to graze.
While the increased demand for lower grade products during wedding seasons may curb losses at the wholesale market level, there have been reports of large amounts of waste at the consumer level during weddings  ̶  resulting in news articles highlighting the wastage issue and encouraging food donation.
Before reaching the market block where tomatoes are sold, we had to turn back before the rains started again. My visit to the mandi served to be an informative visit into the complex realm of wholesale markets – and this is only one point of the value chain! Next up will be interviews with farmers and village-level market vendors to understand their experiences and perspectives on food loss at their point in the value chain.
By Jocelyn Boiteau
Jocelyn Boiteau is a PhD Student and a Tata-Cornell Scholar in the Division of Nutritional Sciences at Cornell University. Her research focuses on food loss from a food and nutrition security perspective.