The Tomato Lottery: Farmer Decision-Making and Food Loss Implications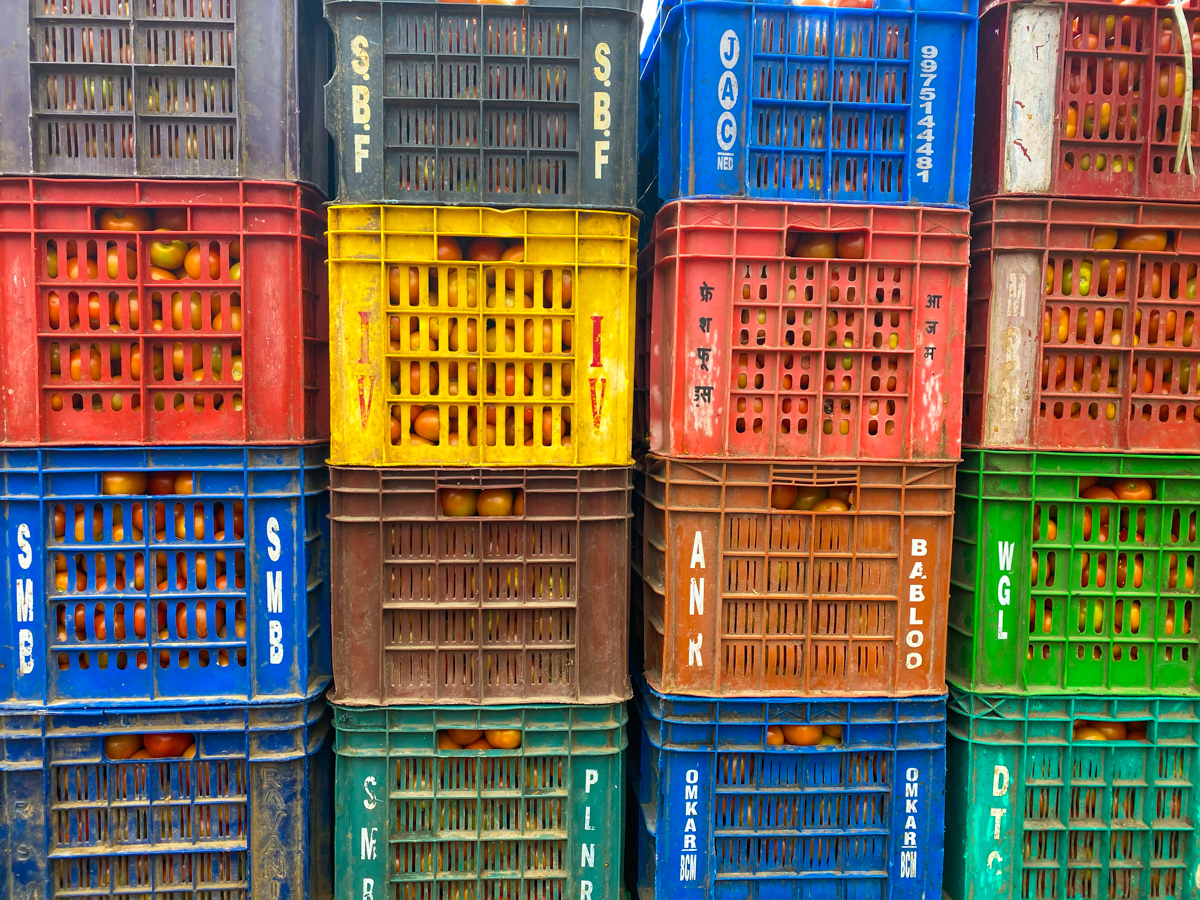 On a brilliantly sunny day in June in Andhra Pradesh's Chittoor district, red-ripe tomatoes shine like ornaments in a field of green. Seemingly absent is anyone harvesting these fruits that are just waiting to be plucked, sold, and consumed. Left untouched, they will overripen and fall to the soil. After all the investment and care spent to grow this food, why is it not reaching the market?
Ripe tomatoes are highly perishable and degrade quickly, even under the best storage conditions. In India, tomatoes are usually kept in ambient conditions that can reach higher than ideal temperatures, particularly during the summer. Existing cold storage facilities are typically used for potatoes. As a result, supply chain actors, from farmers to traders to retailers, must move tomatoes quickly from farms to consumer markets. Along these supply chains, farmers are the first to make decisions on harvesting and transporting market-ready tomatoes.
Most farmers in Chittoor sell their tomatoes at the Madanapalle tomato wholesale market, a major trading hub in the district. If not at Madanapalle market, farmers sell their tomatoes at smaller wholesale markets. Throughout a series of focus group discussions with these farmers, my team and I learned about the trade-offs and decisions farmers consider as they grow, harvest, and market tomatoes.
Leaving Tomatoes on the Vine
Farmers expressed frustrations with variable market rates that could change from week to week or as quickly as day to day. These uncertainties factored into their decision-making with regard to their potential profit. When market rates are too low to earn a profit, farmers are faced with decisions starting at the time of harvest. They can cut their losses and leave edible produce in their field, or they can further invest in harvest labor and transportation and try to sell their produce, even at a low rate, to recover at least some of their investment.
Farmers' responses to market rates are often influenced by the timing of when they learn the current rates. Many farmers receive information on daily market rates by phone messages and texts. Farmers also consider their own recent experiences at the market when they either sold their tomatoes at a loss or were not able to sell them at all. As two of the farmers we spoke to explained:
Farmer 1: One day, two days we go to the market. When we go to the market and if we don't get money even for the bus fare then we will leave the tomatoes. Once or twice, we go [to the market] and if the situation is the same then we will not pluck.
Farmer 2: If we pluck [tomatoes] at the farm and it costs 1000 rs. I take them to market and if I get 200 or 300 rs. then what is the use of plucking? So, for the next harvest, we leave them. When we are at loss we can't do anything. We just keep the fruits [tomatoes] on the plant.
Bringing Tomatoes to the Market
There are times when farmers learn market rates are low after they have already harvested. Most farmers agreed that if tomatoes have been harvested, they will make sure they reach the market. Farmers often hire labor to help harvest tomatoes either the day before or the same day they bring them to the market, depending on the market timing. Harvest labor can become a big expense for farmers. Particularly during peak harvest season, labor rates may increase due to the increase in demand. Post-harvest, farmers must further invest in grading, sorting, and transporting the tomatoes. Among these expenses, harvest labor seems to be a critical expense for farmers:
Farmer 3: Compulsory we will take them because we already plucked them. So, we take them to the market.
Farmer 4: It will cost us from our own hands, but still, we take them to the market.
Diverting Tomatoes to Animal Feed
When farmers either leave their tomatoes in the field, unharvested, or at the market, unsold, the tomatoes may then be used as animal feed. Farmers often have some cattle that they allow to enter the field and eat tomatoes off the vine. At the Madanapalle tomato market, a side-channel exists where unsold tomatoes are collected for feed.
In either case, farmers do not financially benefit. Farmers invest and grow tomatoes with the intention that they will be sold in the food supply chain, eventually reaching human consumers. They see the value of tomatoes fed to animals as similar to those that are thrown out. In contrast, farmers saw value in feeding grass from paddy (rice) to their cattle.
Food Loss Is Not Good for Business
When a farmer's livelihood depends on tomato production, they take on a business perspective and their motivations for reducing food loss are rooted in their profits and ability to invest. After months of investing in production, they are faced with additional challenges once tomatoes are ready for market. Farmers often point to variable market rates as a major challenge. Due to a lack of storage options, the timing of when rates are profitable and when tomatoes are ready needs to match. Farmers are left with few options when there is a mismatch. Looking forward, food loss and waste reduction efforts should consider the underlying mechanisms and critical points that influence farmer decision-making from farm to market.
As one farmer summarized the risks of the business: "Our crop will be like a lottery for us. Sometimes if we are lucky we will benefit. We don't have any assurance that we may receive a good price. Farmers don't have faith in the rates. Whatever we invest is going, and we are not getting anything. Farmers are scared now to invest."
Jocelyn Boiteau is a PhD candidate in the field of international nutrition. As a TCI scholar, her research focuses on quality and quantity food loss in tomato supply chains in India.