Distinguished Lecture with Prof. Arvind Panagariya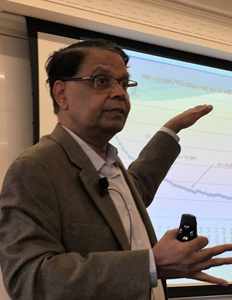 The Tata-Cornell Institute Distinguished Lecture, featuring Prof. Arvind Panagariya, discusses major trends in India's economic development since 1947.  Watch the video of the lecture "Indian Economy: Where From and Where To."
The lecture was organized as a part of a series of events designed to mark five years of the Tata-Cornell Institute.
About the Distinguished Speaker: Arvind Panagariya is a Professor of Economics and the Jagdish Bhagwati Professor of Indian Political Economy at Columbia University. He has had an illustrious career spanning academia, multilateral organizations and public service. From January 2015 to August 2017, he served as the first Vice Chairman of the NITI Aayog (National Institution for Transforming India), Government of India in the rank of a Cabinet Minister. He has also written extensively on the Indian economy. Focus areas: International trade policy, economic development, economic reforms with focus on India
About the Tata-Cornell Institute: The Tata-Cornell Institute for Agriculture and Nutrition (TCI) is a long-term research initiative of Cornell University focused on solving problems of poverty, malnutrition, and rural development in India. It was established in 2013 with a generous gift from the Tata Trusts to conduct cross-disciplinary research, and to bring together the technical capacity of Cornell faculty and graduate resaerchers with the on-the-ground know-how of academic and non-governmental partner organizations in India. Dr. Prabhu Pingali, Professor of Applied Economics at the Dyson School, is the Founding Director of TCI. Learn more at tci.cornell.edu .
Date/location: Recorded on September 13th, 2018 at Cornell University's Charles H. Dyson School of Applied Economics and Management.