TCI Scholar Wins 'Most Market Ready' at Digital Ag Hackathon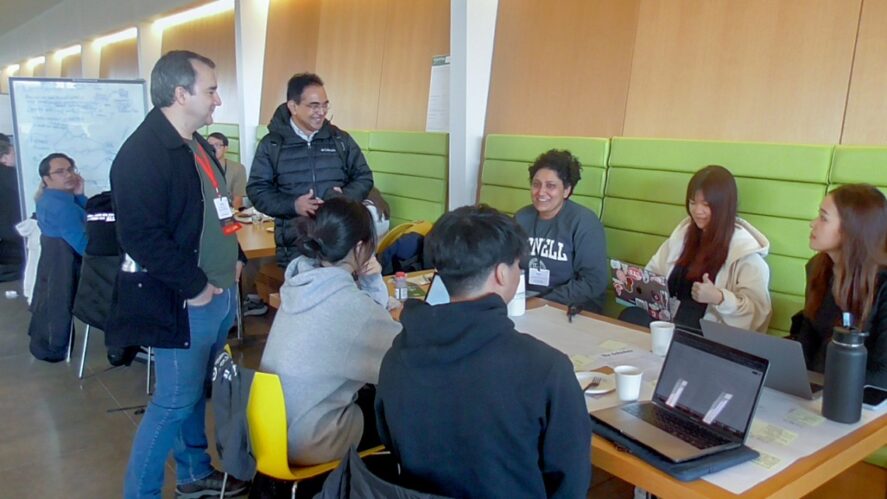 Tata-Cornell Institute (TCI) Scholar Shree Saha and her team took home the award for market readiness at the 2023 Cornell Institute for Digital Agriculture Hackathon on March 20.
Saha's team developed a platform, called TransportX, that would help smallholder farmers in India bring their products to market. The app connects farmers with potential buyers, then uses a series of algorithms to match requests with available transportation.
"It's like a ride share, except for produce," Saha told the Cornell Chronicle.
From Saha's experience conducting field research in India, she knew that transportation was one of the primary challenges that farmers face. She hopes to move forward with her team's idea and make TransportX a reality.
"One of my life goals is to contribute actively," she told the Chronicle. "Small farmers form a huge backbone of India and I want to be able to do something for them, for that to be my legacy."
Saha is a PhD student in the field of applied economics and management. Her research interests include women's empowerment, maternal and child nutrition, financial inclusion, and development.
Other members of Saha's team include Jennifer Zhang '24, Valerie Setiawan, Kelsey Liu '24, and David Remel Cruz, a student at California Lutheran University.
The Digital Ag Hackathon drew 150 undergraduate and graduate students from most of Cornell's schools and colleges to the College of Veterinary Medicine, where they spent the weekend finetuning ideas that use digital tools to address challenges in agricultural sectors around the world.
TCI was a sponsor of the event and several staff members volunteered to assist teams. Research economist Leslie Verteramo Chui and TCI Scholar Tanuj Chawla served as mentors, while Visiting Professor Chandra S. Nuthalapati served as a judge for the competition.
Read more about the hackathon in the Cornell Chronicle.
Featured image: TCI Research Economist Leslie Verteramo Chui and Visiting Professor Chandra S. Nuthalapati speak with TCI Scholar Shree Saha and her team during the Cornell Institute for Digital Agriculture Hackathon on March 20. (Photo provided)