Revealing the Hidden Production Costs of India's Public Distribution System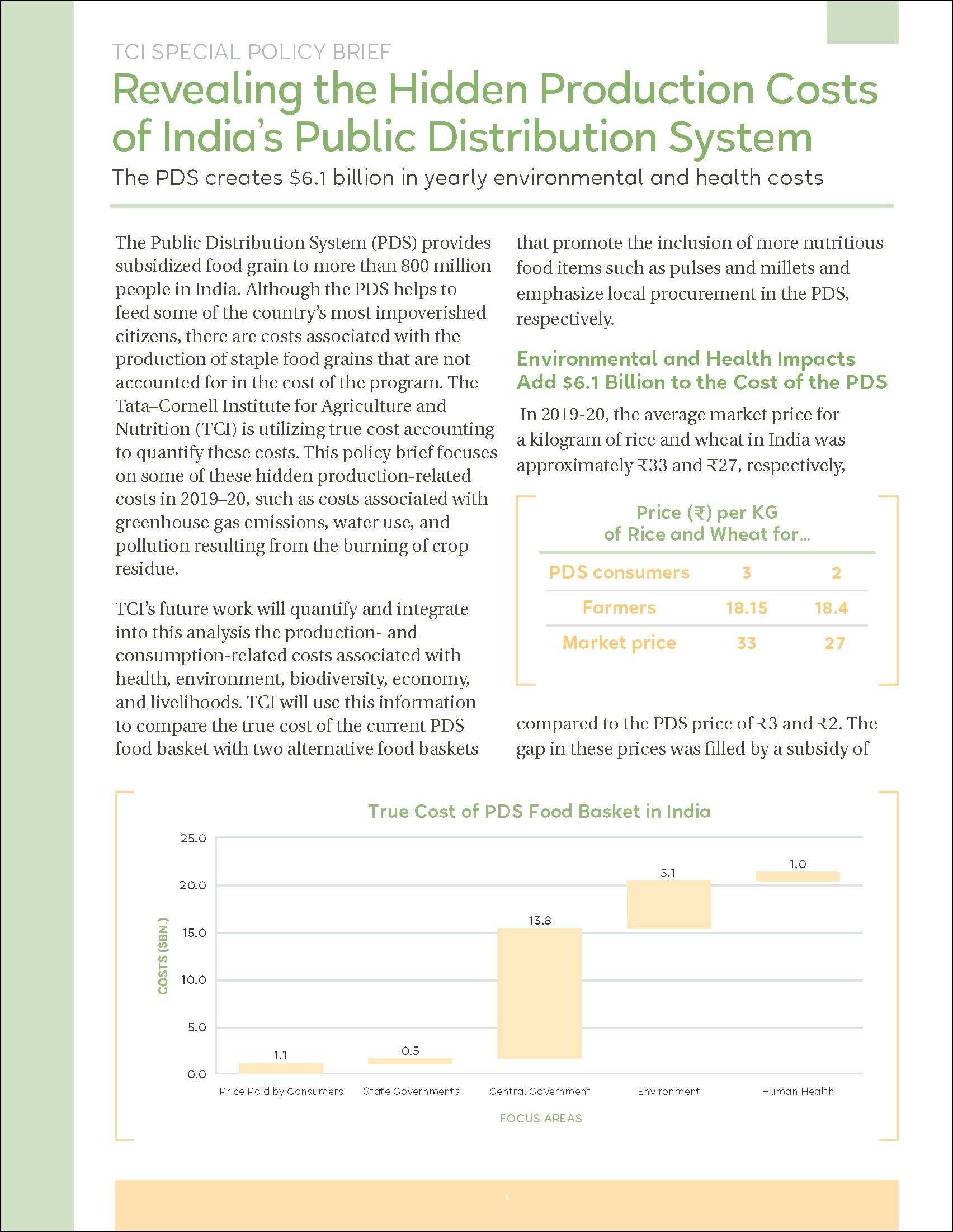 This policy brief presents preliminary estimates of the environmental and health-related costs associated with the production of food grain for India's Public Distribution System (PDS), a program that provides subsidized food to more than 800 million Indians. This new analysis provides government policymakers, advocates, and other stakeholders with a clearer, more accurate picture of the true cost of the PDS, which is needed to make the program more nutrition-sensitive and sustainable.
Download the policy brief (PDF)
The PDS carries significant environmental and health costs
In 2019-20, the Indian government spend US$13.8 billion to procure, store, transport, and distribute food grain through the PDS. That cost did not include an estimated US$5.1 billion in environmental costs or US$1 billion in health costs. When these hidden costs are taken into account, the true cost of the PDS increased by 40 percent.
Centralized procurement and an emphasis on rice and wheat has caused a regional imbalance in grain production for the PDS. Six states in northwest India produce 80 percent of PDS grain, with Punjab and Haryana alone accounting for half. While this confers benefits on farmers in those states, it also concentrates environmental and health impacts. Decentralizing procurement could increase the livelihood opportunities available to farmers in impoverished eastern states while reducing the costs of intense production in the northwest.
Our research shows that the system used to produce grain for the PDS incurs significant costs hidden from consumers and policymakers alike. By quantifying the environmental and health impacts of PDS production, we hope to give policymakers the information necessary to improve this tremendously important program.

Prabhu Pingali
Director, TCI
The True Cost of Food Subsidies in India
This policy brief was published as part of the True Cost of Food Subsidies in India project, which uses a "true cost accounting" approach to measure the costs and societal impacts that are not counted in the PDS budget to provide policymakers with a clearer picture of the program's costs and benefits. Future work will quantify the production- and consumption-related impacts that the PDS has on health, environment, biodiversity, economy, and livelihoods, in addition to comparing those costs with the cost of alternative PDS baskets emphasizing local procurement and more nutritious foods.
This project is supported financially by The Rockefeller Foundation. The findings and conclusions shared as part of this project are those of the authors and do not necessarily reflect the positions or policies of The Rockefeller Foundation.