Improving Public Sector Plant Breeding for the Future of Food Security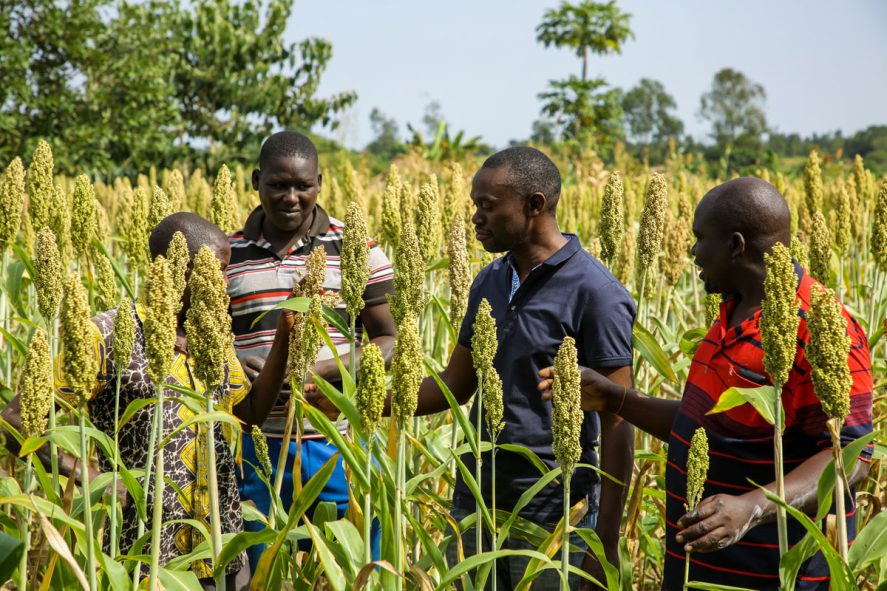 Public plant breeding programs play a central role in tackling local food security challenges around the world, but how can we be sure that they are operating effectively and optimally at the institutional level? In this blog series, the Feed the Future Innovation Lab for Crop Improvement's (ILCI) institutional capacity team explores how they came to define and measure institutional capacity at National Agricultural Research Institutes (NARIs) — something that has never been done before.
Based at the Tata-Cornell Institute, the team works with ILCI Centers of Innovation at NARIs in Costa Rica, Haiti, Malawi, Senegal, and Uganda to reveal constraints, bottlenecks, and challenges of technology development and diffusion. Their goal is to improve the ability of public crop improvement programs to respond to dynamic food system needs, thereby boosting farm productivity, incomes, and nutrition.
Follow the series:
Improved public sector plant breeding for food security 
Institutional capacity conceptual framework (Coming soon)
Institutional capacity measurements (Coming soon)
Institutional capacity index (Coming soon)
Introduction
It is no secret that we are facing a global food crisis. Scientists, economists, farmers, and politicians, among many others, are at the forefront of creative solutions to fight hunger. As we sail into the 21st century with the world's population approaching 9 billion, we must ask a crucial question: What will be the role of public sector breeding programs in global food security? And what will those institutions need to tackle evolving challenges?
While a global network of researchers make scientific discoveries in plant breeding, we must also confront the capacity of plant breeding programs to actually enable the development of staple crops, and make a subsequent impact on human and environmental wellbeing. Historically, we could analyze what has and hasn't worked in terms of institutional capacity.
For example, in India in the 1960s, the Green Revolution allowed cereal production to increase by 43% within five years. This is a good case study example of how public investment in crop improvement research and capacity building led to immense increases in the productivity of rice and wheat. International research institutions (CGIAR centers, especially CIMMYT and IRRI) successfully generated technology and scientific spillovers that were publicly available to be adapted and disseminated by national breeding programs. The Green Revolution limitations reveal that capacity needs to be built in NARI breeding programs and orphan crops to ensure that crop improvement benefits lagging regions and addresses micronutrient deficiency.
Before diving into concepts in plant breeding capacity, let's first step back to understand the aim of crop improvement and the role of the public sector.
What is plant breeding?
Plant breeding uses scientific principles to manipulate particular genes and develop improved crop varieties with desirable characteristics. Breeding programs set objectives by defining their goals (e.g., adaptation to environmental conditions) and select individual plants that exhibit a combination of favorable traits (e.g., disease resistance). Parent plants with desirable characteristics are bred to produce generations of plants with distinctive genetic makeups corresponding to the selected traits.
Plant breeding has been employed since the advent of agriculture when farmers selected the highest-performing crops for reproduction and domestication. In the 1800s, Gregor Mendel laid the groundwork for the field of genetics and plant breeding by observing the ability of pea plants to pass on traits (e.g., color and size) to their offspring. Plant breeding approaches have evolved with technological innovations and strategies to account for environmental variability, leading to more sophisticated selection and improved agricultural productivity. Selection for traits that correspond to yield gains have historically been emphasized to enhance food supply and increase profits.
The public sector's continued role in ensuring food security
Private and public sectors have distinct goals in plant breeding. For example, the private sector directs breeding efforts on the most profitable crops (e.g., staple and horticulture crops) and employs the latest technologies to produce commercialized seeds of high-yielding varieties. Public sector plant breeding, however, focuses on more than just market demand — its greatest motivation is to serve the public good and increase societal welfare. Public sector breeding has been instrumental in improving yields for lower value, yet essential, staples such as roots, tubers, pulses, and grains. These initiatives have been critical to reduce hunger and poverty in developing countries.
Lessons from the Green Revolution and the current climate crisis have shifted priorities from developing high-yielding varieties to emphasizing critical food security challenges. Changing climates have exposed the need to include traits that lead to more resilient crops, including resistance to drought, pests, and disease.
Pervasive malnutrition has revealed, however, that focusing on increasing the supply of staple grains is insufficient to ensure populations receive adequate nutrition. Public plant breeding programs are breeding crops that diversify diets and enhance a plant's nutritional profile. Additionally, by engaging with robust market research, NARIs are able to meet the local demands and preferences of vulnerable groups and ensure that prioritized traits are inclusive and equitable.
What capacity should public sector breeding programs have?
Genetic crop improvement has and will continue to be an essential determinant for researchers to meet the growing demand for food. NARIs perform a unique context-specific role in agricultural research and development by developing varieties adapted to diverse agro-ecological zones and the particular food security needs of their country's population — from boosting nutritional quality for youth wellbeing to prioritizing gendered preferences in how the staple crop is utilized in households. NARIs are well-positioned to respond to value chain actors' demands and address local communities' needs and preferences. So, how can we conceptualize a public plant breeding program's capacity?
In international development, institutional capacity is defined as the ability of an organization to achieve their goals and mandates. Capacity is indicated by a program's ability to effectively set priorities and utilize institutional arrangements (e.g., resources, human capital, and collaborations) to perform efficiently, maintain stable performance, and adapt to changes and shocks. Thus, in crop improvement, we are interested in understanding NARIs' ability to deliver genetic gain and produce relevant improved crop varieties that respond to target populations, environments, and market demands.
Why measure capacity?
Tracking institutional capacity in plant breeding programs is essential to two core goals: first, to monitor the success of novel agricultural research on adoption outcomes, and second, to reveal bottlenecks in technology development. Performance evaluations ensure breeding activities are aligned with the institutional mandate and assess if they are effectively achieving their goals. Documenting an institution's capacity ensures they remain accountable and transparent to various stakeholders, enabling them to secure donor funding.
Measuring capacity in ILCI 
The Feed the Future Innovation Lab for Crop Improvement (ILCI) seeks to identify, develop, and implement tools, technologies, and methodologies for national breeding programs to improve food security around the globe. The project aims to deliver genetic gains and new crop varieties for target populations and agricultural regions that advance economic growth, resilience, and nutritional development goals of the USAID Global Food Security Strategy. The Tata-Cornell Institute for Agriculture and Nutrition (TCI), as a partner of ILCI, is tasked with measuring the change in the institutional capacities of national breeding programs in partner countries (Costa Rica, Haiti, Malawi, Senegal, and Uganda) as a result of the project.
Measuring baseline capacity is essential to define a starting point for change and provide a benchmark against which ILCI can measure progress in institutional performance. TCI's newly developed survey tool (presented in subsequent blogs in this series) will measure the institutional context that drives the capability of breeding programs to achieve desired outputs. Future analyses will reveal the success of breeding program interventions and measure progress over time.
This article was written by Mathew Abraham and Sage Grasso-Monroe. Learn more about their work with the Innovation Lab for Crop Improvement institutional capacity team.
Featured image: Breeders and farmers work together at the Center of Innovation for Finger Millet and Sorghum in Uganda. (Photo provided by the National Semi-Arid Resources Research Institute)