Three TCI Publications Show the Potential of Women's Empowerment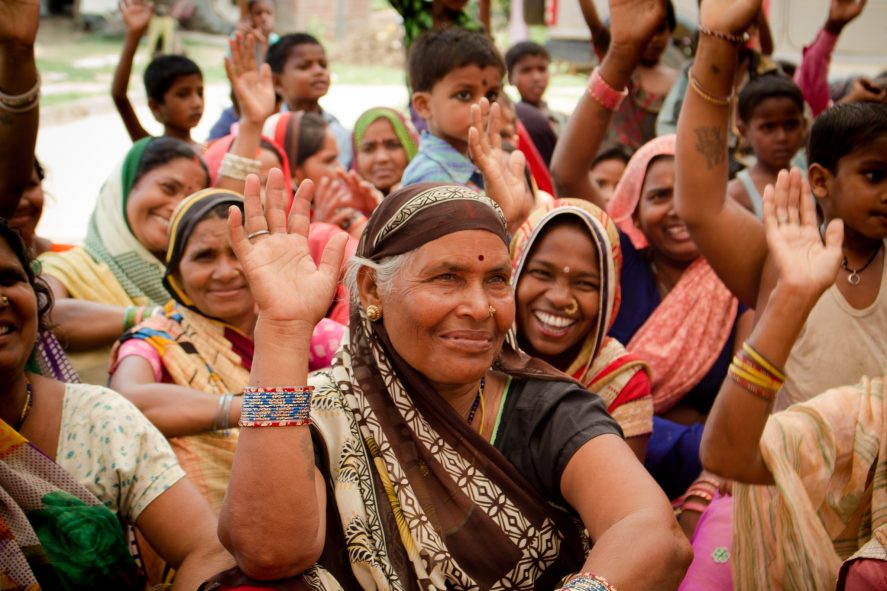 In the effort to improve nutrition in developing countries, women's empowerment in agriculture is a pathway that has gained considerable traction. In smallholder-farming households, the thinking goes that the more that women are empowered to make agriculture-related decisions, the more power they have to choose to grow, buy, and consume diverse, nutritious foods. The Tata-Cornell Institute for Agriculture and Nutrition (TCI) advanced the understanding of how this pathway impacts nutrition in three journal articles published in 2019.
"Enabling women's agency and participation in agriculture is intrinsically important," said TCI research economist Soumya Gupta. "At the same time, it generates synergies that can be leveraged for improved social, economic, and health outcomes at the individual, household, and community levels."
Adapting the Women's Empowerment in Agriculture Index to India
In "Adapting the Women's Empowerment in Agriculture Index to Specific Country Context," published in Global Food Security, Gupta, TCI alumna Vidya Vemireddy, researcher Dhiraj Singh, and director Prabhu Pingali drew upon their field experience to modify the Women's Empowerment in Agriculture Index (WEAI)—a popular multidimensional method of assessing women's empowerment based on their access to resources and ability to make decisions in agriculture—so that it reflects the reality of agriculture in India. For example, while the WEAI's group membership sub-indicator includes membership in any group, TCI's Index is focused on self-help groups, which play an important role in Indian women's agricultural activities.
When applied to survey data collected as a part of TCI's Technical Assistance and Research for Indian Nutrition and Agriculture (TARINA) program, the adapted index reveals that at least 80% of women across the four districts surveyed are disempowered in agriculture. The main drivers of disempowerment are a lack of membership in agriculture-related self-help groups, lack of ownership of land, and lack of control over income.
Compared to the WEAI, TCI's adapted index shows significantly lower levels of women's empowerment in agriculture. These results demonstrate that while the WEAI is a useful method for measuring empowerment, it must be modified to fit local contexts to impact public policy in a meaningful way.
Women's Empowerment and Market Integration
In an article in Food Security, "Nutritional Outcomes of Empowerment and Market Integration for Women in Rural India," Gupta, Vemireddy, and Pingali used their adapted empowerment index to demonstrate that women who are empowered in agricultural decisions have higher levels of dietary diversity, meaning that they are more likely to eat a diet containing a range of nutritious non-cereals, like pulses, meat, dairy, and eggs.
The study, which also used TARINA survey data, accounts for a household's market integration in terms of how much it spends on buying a diverse array of food from local markets. Greater household purchases of non-cereals are associated with higher levels of dietary diversity for women. TCI's analysis revealed that, for a given level of market integration, empowered women are better able to translate their influence into purchases that diversify their diets. Taken together, these results reinforce the notion that Indian agricultural policy should be reconfigured in a way that promotes both women's empowerment and household market integration for improved nutritional outcomes.
Empowerment's Impact on Micronutrition
In "Women's Empowerment and Nutrition Status: The Case of Iron Deficiency in India," a Food Policy article by Gupta, Pingali, and Per Pinstrup-Andersen, the WEAI was used to study the relationship between women's empowerment and blood iron levels. The study marks the first time the WEAI has been used with the explicit measurement of medical biomarkers for women's iron deficiency status.
Using multiple iron markers from blood tests from 960 women, Gupta, Pingali, and Pinstrup-Andersen found the likelihood of poor iron status declines as empowerment levels improve. They also examined the women's dietary intake and found that, although empowerment levels are associated with improved iron status, the dietary factors are not. This suggests that the empowerment pathway can hold great potential as a non-dietary pathway for addressing micronutrient outcomes in women.
These three articles are only the latest contributions from TCI researchers to the literature that examine the link between women's empowerment and nutrition. TCI continues to build on previous research in this area, improving upon measurement methodology and demonstrating the important role that women's empowerment plays in improving nutritional outcomes.