Tomato Trouble: Estimating and Understanding Food Loss in Vegetable Supply Chains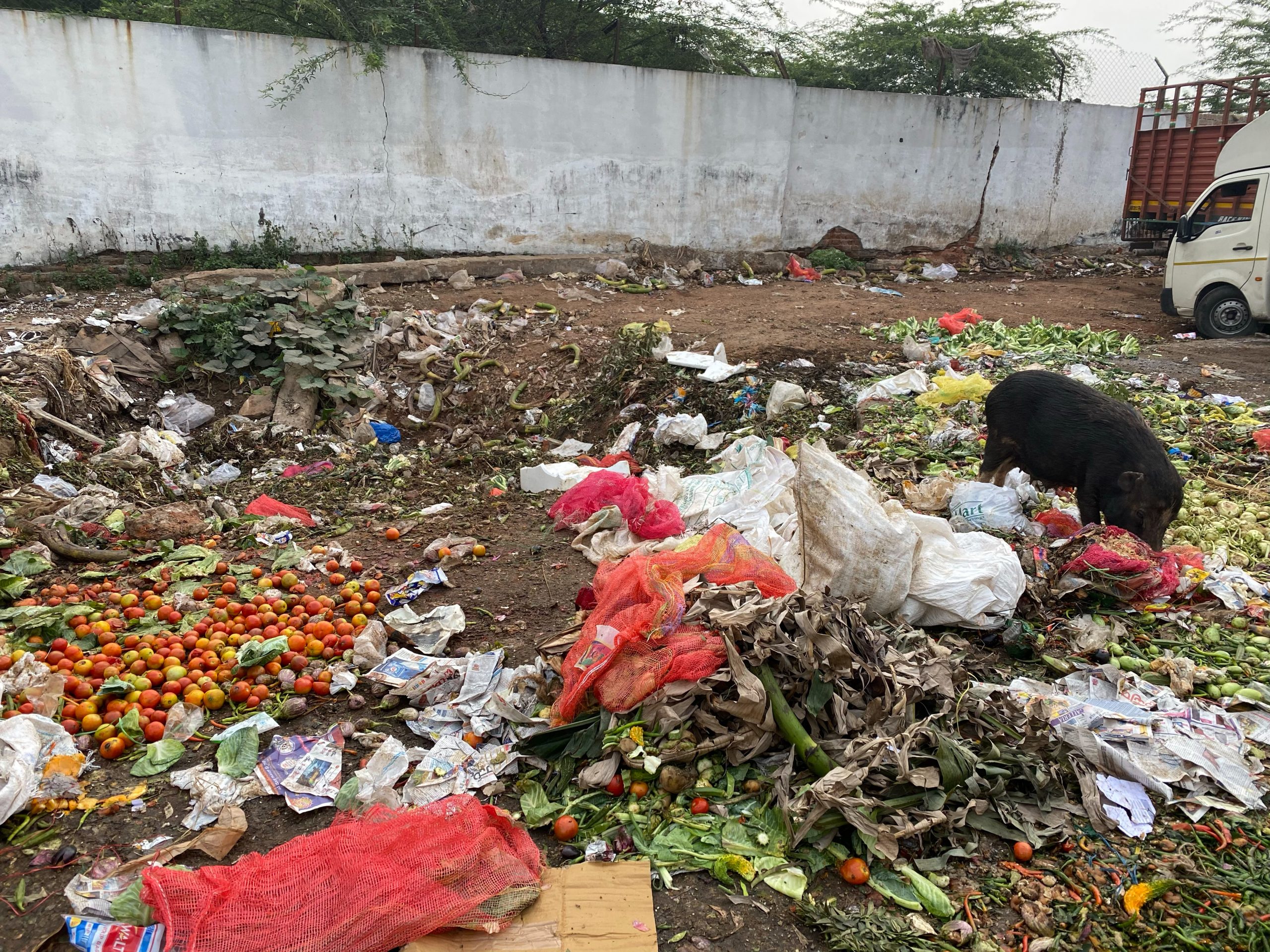 This piece from the TCI 2019-20 Annual Report presents TCI scholar Jocelyn Boiteau's study of quality and quantity food loss in tomato supply chains in India. Download the full annual report to read more.
The loss of fruit and vegetables—damaged during transport or left decaying in a warehouse—in supply chains means that the nutrients of these foods cannot be consumed by those who need them. This is an especially important problem in countries like India, where there are not enough fruits and vegetables available in the food system to meet the population's dietary needs. TCI works to understand the nature, stages, and extent of food loss of perishable vegetables along supply chains in India, seeking to aid in the creation of effective reduction interventions in order to improve food security.
Attempts to reduce food loss are hampered by the lack of a universal definition of food loss and the lack of standard, validated methods of measurement. In an effort to develop such metrics, TCI scholar Jocelyn Boiteau is conducting an observational study to estimate and understand quantity and quality food loss of fresh tomatoes from farm to retail in Chittoor district, Andhra Pradesh, and Hyderabad district, Telangana.
Andhra Pradesh is one of India's top tomato-producing states, and Chittoor district has its greatest land area under tomato cultivation. The state is also home to the Madanapalle tomato wholesale market, one of the largest tomato markets in Asia. Tomatoes from the market are shipped all over the country, including Hyderabad.
The data collected thus far also reveals that supply chain actors may perceive important tomato-quality attributes differently.
To gain a comprehensive understanding of food loss across the entire tomato supply chain, TCI's study surveys farmers, wholesale buyers, and local retailers in Chittoor, as well as tomato traders and retailers in Hyderabad. Across the surveys, Boiteau and her team gather data on self-reported loss estimates, including how many tomatoes are completely lost and how many are damaged and have reduced quality. They also assess loss objectively by counting crates at different stages and gathering quality data using line-scaling methods.
Survey data collection in Chittoor district began in February 2019, and in Hyderabad in April 2019. In Chittoor, surveys are conducted with farmers on harvest days and with farmers and tomato traders on auction days at Madanapalle. To date, 277 farm-level surveys and 212 wholesale market surveys have been completed, with 149 farm households participating. Enrollment of wholesale traders is ongoing, with 84 participating so far. In Hyderabad, monthly surveys are conducted with 52 vegetable traders across three vegetable markets run by the state government, in addition to 52 retailers located across Hyderabad city.
Data collection will continue through September 2020, so as to account for differences in loss across the seasons.
Though ongoing, these surveys are providing valuable insights about how different actors on the supply chain perceive quantity and quality food loss. For example, some farmers have seen weather and climate-related afflictions, such as sun blisters, contribute to the loss of tomato crops. The perceived risk of loss has also been observed to influence farmers' decisions to grow one crop over another.
The data collected thus far also reveals that supply chain actors may perceive important tomato-quality attributes differently.
When completed, this study will improve the understanding of both quantity and quality food loss and provide a clearer picture of how and why it occurs in supply chains. Ultimately, it will contribute to the development of food loss prevention strategies that increase the availability of nutritious fruits and vegetables.