10th Anniversary Conference Puts Focus on Impactful Research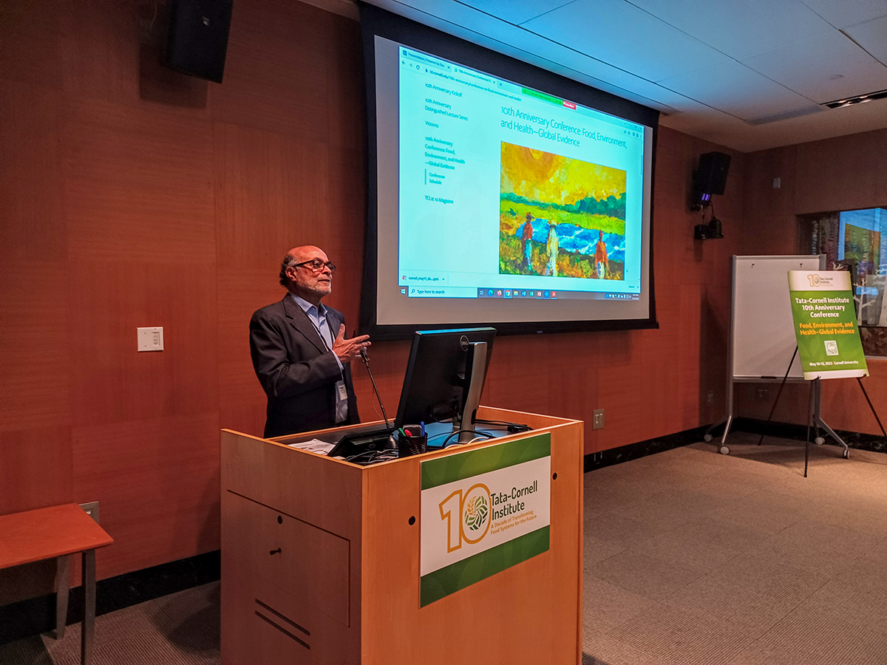 Researchers from universities and research institutions across the world traveled to Cornell University last week to take part in the Tata-Cornell Institute for Agriculture and Nutrition (TCI) 10th Anniversary Conference. The theme of the conference was "Food, Environment, and Health—Global Evidence."
A total of 30 scholars presented their research during the two-day conference on May 11 and 12. The presentations were grouped into eight thematic sessions: Environment-Nutrition Linkages; Externalities in the Food System; Food Prices and Household Diets; Global Food Systems; Child Nutrition; Resilience and Welfare Transfers; Agricultural Markets and Food Security; and Risks, Investments, and Social Networks.
The keynote presentation was delivered by Ruth DeFries, professor of ecology and sustainable development at Columbia University in New York and co-founding dean of the Columbia Climate School. In her presentation, DeFries used the revival of millets in India as a case study for discussing how scientists can use their research to effect change in deeply entrenched food systems. She argued that scientists can nudge things along by reacting quickly to political and societal changes. When attitudes in India shifted in favor of millets, DeFries said that she shifted her research away from providing evidence of the crop's benefits, instead moving on to the next challenge—incentivizing farmers to grow more millets.
DeFries told attendees that they could use their research to contribute to big paradigm shifts, which are difficult to achieve but have a large impact, or to encourage small-scale changes, like adjusting subsidies or introducing new crop varieties, which have less of an impact but are easier to achieve. "Recognize where your science is contributing to different potential leverage points in a system," she said.
In concluding remarks, TCI Director Prabhu Pingali said that one of the motivating factors for holding the conference was to compare TCI's India-focused work on the nexus between agriculture and nutrition with research happening elsewhere.
"Bringing together a group of people that have been looking empirically at that connection between agriculture, food diversity, nutrition—especially around child nutrition—has been a really important learning experience," Pingali said. "We can see significant parallels across countries and across the development spectrum, and I think that is really encouraging."
Pingali also said that bringing the environment into the study of agriculture and nutrition is critical as the world confronts climate change. "Bringing that climate change dimension to nutrition is really important, and several studies that have made that leap give us a path forward to think about it," he said.
The conference featured a mix of experienced researchers, such as Food and Agriculture Organization Director for Inclusive Rural Transformation and Gender Equality Division Ben Davis, and young professionals, including graduate students. Both Pingali and DeFries noted the creativity, passion, and cutting-edge techniques that young people bring to their research.
"It's good to have that younger group here," Pingali said. "And we look forward to seeing where the profession is in terms of methodologies, in terms of paradigms, etcetera."
The conference was the culmination of a yearlong celebration of TCI's 10th anniversary. Other events included a speaker series and a celebratory dinner.
Featured image: TCI Director Prabhu Pingali delivers introductory remarks at the TCI 10th Anniversary Conference on May 11, 2023, at Cornell University. (Photo by Dan Verderosa/TCI)