Alumnus Pursues Cutting-Edge Food Science Innovations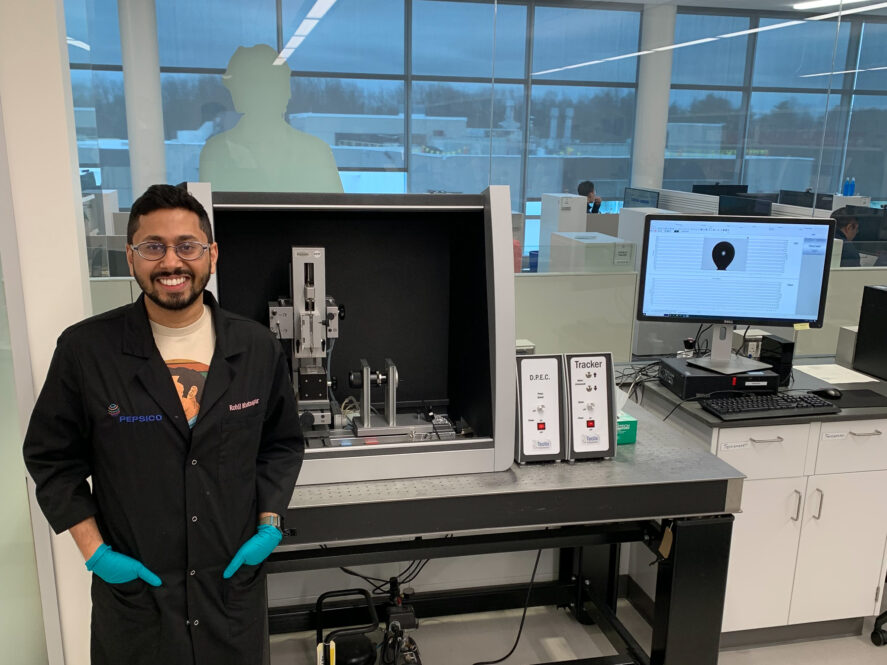 TCI alumni shine in many different fields, including academics and development research. One recent alumnus is making a mark in private industry as a food scientist combining science, technology, and business acumen.
Rohil Sahai Bhatnagar, who received his PhD in food science and technology from Cornell University in 2020, is now a senior research scientist at PepsiCo. Bhatnagar is developing a novel encapsulation technology to deliver a controlled release of caffeine to the small intestine through a beverage.
"Whenever one consumes a caffeinated drink such as coffee, one experiences a caffeine high, followed by a slump which leads to sluggishness," Bhatnagar said. "This can be mitigated by employing a technology that can slowly release small doses of caffeine in the blood which can keep one caffeinated for longer within the same caffeine dose as a normal cup of coffee."
Beverage formulation research is relatively unique as the technology development needs to be cost-effective and easily scalable, yet rapid and novel to ensure speed to market and patentability. Despite these challenges, Bhatnagar is making strides and hitting it big.
"TCI offered me the opportunity to craft my own research questions and the flexibility to explore those answers through interdisciplinary studies."
Besides conducting research, Bhatnagar also works with external partners for technology scale-up and commercialization. He also advises on collaboration projects with top universities in the US, Europe, and China.
"I have been fortunate to work in a group at PepsiCo that lays strong emphasis on hard-core cutting-edge research, and just the ability to work on real-life industry issues and projects from an end-to-end standpoint, in an organization as large as PepsiCo with so much brilliant talent, is what excites me most about my job," he said. "There is hardly any day when I do not learn something new."
Bhatnagar said that his experience at TCI has shaped his career in food science research and is a driving factor behind his success at PepsiCo. At Cornell, his research focused on combatting iron deficiency by fortifying wheat flour with iron derived from defatted green microalgae typically used to produce biofuels.
"TCI offered me the opportunity to craft my own research questions and the flexibility to explore those answers through interdisciplinary studies," he said. "In my current role as a senior scientist at PepsiCo, this kind of holistic training has allowed me to search for solutions in disciplines other than my background and enabled me to refine and implement those learnings in the stage gate process."
Bhatnagar said that looking at food science from a food system lens is another important lesson from his days at TCI.
"One of the most valuable components of my TCI experience has been the training to look at food science from a food systems standpoint and the opportunity to look at laboratory-scale technology development from a viability standpoint and consider commercial economic feasibility while designing lab-scale experiments," he said. "This ability has been crucial for me in interacting with stakeholders and promptly coming up with troubleshooting solutions."
Bhatnagar is having a successful and satisfying career in food science research. His training at TCI nurtured his skills by bringing together facets of food science, chemical engineering, and social science together.
Featured image: Rohil Bhatnagar in his lab at PepsiCo. (Photo provided)