TCI Cosponsors Digital Ag Hackathon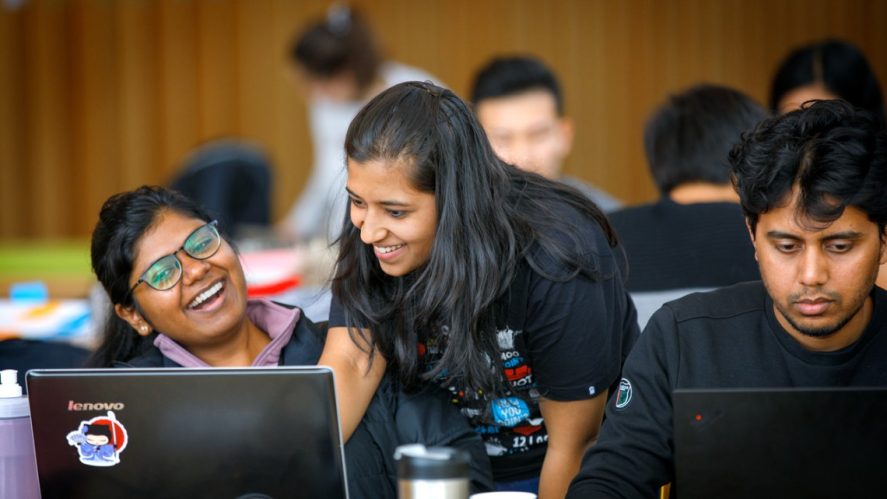 The Tata-Cornell Institute for Agriculture and Nutrition (TCI) is a cosponsor of the 2022 Digital Ag Hackathon organized by the Cornell Institute for Digital Agriculture (CIDA). Open to all Cornell University undergraduate and graduate students, the hackathon takes place March 11-13.
Now in its fourth year, the Digital Ag Hackathon is an interdisciplinary event that brings together students from diverse areas of study to solve agriculture-related challenges in a fun and competitive learning environment. The weekend culminates in a final competition where teams showcase their innovation to industry representatives, participants, and other members of the campus community. A panel of judges, including TCI Director Prabhu Pingali, will select winners of monetary prizes.
Over 200 students are expected to participate in the hackathon, with more than $8,000 in cash prizes up for grabs.
TCI research staff and doctoral students from the TCI Scholars program will serve at mentors during the event, providing participants with feedback, guidance, and real-world context as they work to create solutions for five challenges: data-driven crop production; optimizing controlled environment agriculture; reducing waste, byproducts for protection, and agroecology; assisting small-scale farmers; and solving for food waste and safety.
Hosts for the event include CIDA; the Ann S. Bowers College of Computing and Information Science; the College of Agriculture and Life Sciences; Cornell Engineering; the College of Veterinary Medicine; and Entrepreneurship at Cornell. In addition to TCI, the event is sponsored by CIDA co-founding member Microsoft, the Foundation for Food and Agriculture Research, Bayer, Plenty, Corteva Agriscience, Dairy Farmers of America, Hawaiian Macadamia Nut Company, and the Yield Lab Asia Pacific.
Featured image: Students work together during the 2020 Digital Ag Hackathon. (Photo by Jason Koski/Cornell University)