TCI Welcomes Five New Scholars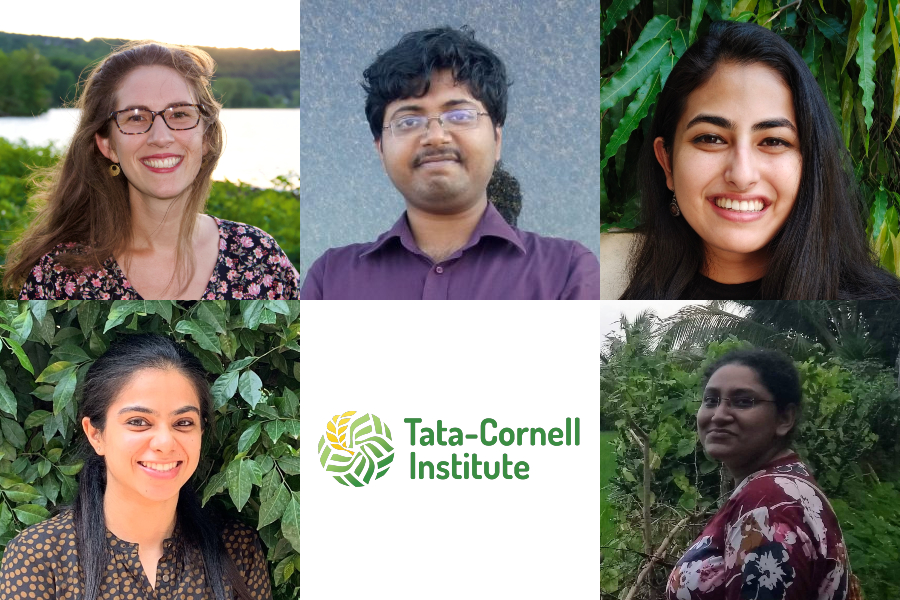 Five new scholars joined the Tata-Cornell Institute for Agriculture and Nutrition (TCI) at the start of the 2020-21 academic year: Kiera Crowley, Shivranjani Baruah, Sonali Uppal, Shree Saha, and Chanchal Pramanik.
"I am thrilled to welcome five talented new students into the TCI scholars program," said Prabhu Pingali, director of TCI. "With their diverse set of academic interests, I am confident that they will make great contributions toward TCI's mission to reduce poverty, improve nutrition, and enhance livelihoods in rural areas."
Kiera Crowley Crowley may be a new TCI scholar, but she is not new to TCI. Crowley previously worked as a research support specialist for the Institute, co-authoring one of its latest reports, Food, Agriculture, and Nutrition in India 2020. Crowley is joining the Soil and Crop Sciences Section of Cornell University's School of Integrative Plant Science, where she plans on studying the adoption of conservation agriculture technologies among farmers in India's Indo-Gangetic Plain. As the recipient of a Foreign Language and Areas Studies Fellowship, Crowley will also study Hindi while pursuing her PhD.
Shivranjani Baruah Also joining TCI from the School of Integrative Plant Science is Baruah, who is studying toward a PhD in plant pathology and plant-microbe biology. Her primary research interest lies in exploring the intricacies of plant-pathogen interactions at the molecular level in order to inform decision making related to crop protection. Baruah earned a master's degree in microbiology from St. Xavier's College at Calcutta University, and studied at University of California, Davis, as part of the Khorana Program for Scholars.
Sonali Uppal Uppal joins TCI as an MPA student in the Cornell Institute for Public Affairs. Her research interests lie in at the intersection of development economics and agricultural livelihood. Uppal holds a post-graduate degree in rural development and has six years of experience working in India's development sector planning and implementing large-scale research, monitoring, and evaluation studies.
Shree Saha Saha is a PhD student in the field of applied economics and management, with interests in women's empowerment, maternal and child nutrition, financial inclusion, and development. She holds an MPhil and master's degree in economics from the Indira Gandhi Institute of Development Research, where she worked prior to joining TCI.
Chanchal Pramanik Pramanik was previously a TCI scholar in the Charles H. Dyson School of Applied Economics and Management. After receiving his master's degree in 2020, Pramanik is now working toward a PhD in regional planning in the Department of City and Regional Planning in the College of Agriculture, Art, and Planning. He plans to study rural-urban dynamics and how they can benefit rural economies, with a focus on digital technologies.