'Clean Water' – a podcast episode on what makes us human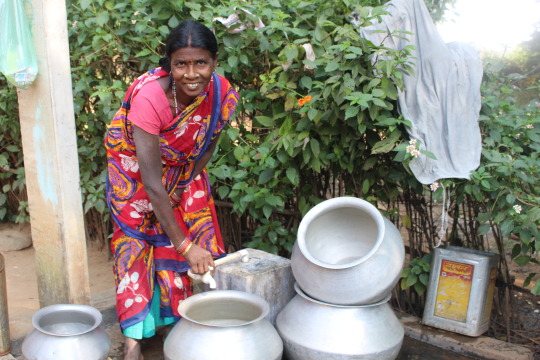 This is an episode from the "What Makes Us Human?" podcast's fourth season, "What Does Water Mean for Us Humans?" from Cornell University's College of Arts & Sciences. Prof. Prabhu Pingali explains the impact of clean, piped-in water on women and girls in India.
Read about the episode in the Cornell Chronicle. Review the transcript below.
By: Prabhu Pingali, Director, Tata-Cornell Institute for Agriculture and Nutrition; Professor of applied economics and policy and nutritional science, College of Agriculture and Life Sciences
Those of us living in developed countries can usually take access to good quality drinking water for granted. But for much of the world, access to clean water at home is a dream. In India, only about 40 percent of the population have homes with water piped in.
This means that someone – usually women and girls – must travel (sometimes great distances) to fetch water for drinking, cooking, bathing, and washing dishes and clothes. Imagine how much water you use a day, and then imagine having to carry every ounce of that to your home. Those transporting the water often have to make several trips a day over long distances. The time spent carrying water is time not spent on other important activities, like farming, generating income, attending school or caring for children and the elderly.
An average woman living in a typical Indian village is over-burdened. She faces the hard work of sowing, transplanting and weeding crops by hand. In her home, which she cleans, she plans the meals and does all the cooking – from scratch, often over open flames. She finds and carries firewood and water, she feeds the livestock, she goes to market and does the shopping. She scrubs the dishes and she washes all the clothes by hand. She tends to the children, her mother-in-law and her husband. Perhaps she attends meetings as a member of a self-help group so that she may have access to credit, or learn new skills for herself. Plus, she is held responsible for upholding social, cultural and religious obligations in her community. If her time burdens were eased – even a little – she might have time to rest or even enjoy a bit of leisure.
The Tata-Cornell Institute has been working to promote and study the effects of water, sanitation and hygiene projects. For example, we're improving the access and availability of in-home clean water on tap for villages in India, and we've also been constructing and encouraging the use of toilet facilities. We've been partnering with AguaClara, which has been building water treatment centers in villages around the world.
In a research study, we found that in the villages with AguaClara water treatment centers, households on average spend 60 percent less time in water collection per day compared to the households in the non-AguaClara villages. Imagine 40 minutes per day compared to 100 minutes. This is a big difference in the lives of women and girls!
When water is brought into the home from a safe, screened source there are health benefits as well: the incidence of water-borne illnesses, like diarrhea, are significantly reduced. Diarrhea is a leading cause of death for children across the developing world.
With clean water on tap – as well as the successful adoption of toilets – women spend less time sick and less time caring for others who are sick. They don't have to exert effort and time walking far out to the fields to relieve themselves. Water, Sanitation and Hygiene – or WASH – interventions are game changers for women.
When women don't have to haul water, our studies show they use their free time for entrepreneurial activities to improve their income, more focus on their children and, not least, the freedom to enjoy leisure. Leisure time is a rarity in many developing countries, but its importance is often overlooked.
And when young girls don't have to help gather water, they can use their time for education: we find that attendance in school improves with access to clean water. Since studies show that education is the single most important factor in improving the lives of girls and women in developing countries, bringing clean water to villages should be a top priority for us all.
– With thanks to Linda Glaser and Jessica Ames for their work on the script
– Photo credit: Shiuli Vanaja