IFPRI book launch: Transforming food systems for a rising India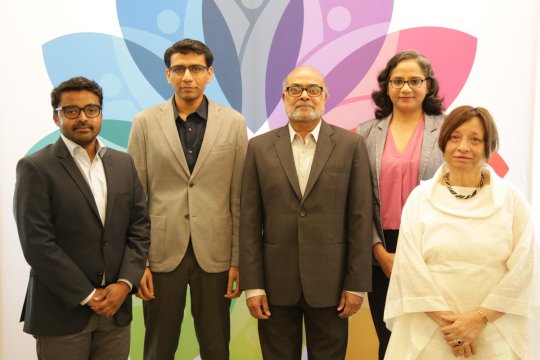 Despite broad economic progress, India continues to face persistent food insecurity, malnutrition, and high levels of stunting. This paradox is at the center of a new book by researchers at the Tata-Cornell Institute for Agriculture and Nutrition, Transforming Food Systems for a Rising India, which brings together the latest data and evidence to map out the currents state of Indian food systems. The book offers important insights to both development practitioners and researchers working in India and other developing countries. On June 6, the four co-authors launched the book at IFPRI, outlining what it will take to achieve a nutrition-secure future for India.
Note: This post originally appeared on the IFPRI blog.
Post-Doctoral Associate Andaleeb Rahman raised a set of important distinctions between India's states: Lagging, agriculture-led, and urbanizing. As Tata-Cornell Director and co-author Prabhu Pingali later explained, India should not be thought of as a homogeneous landscape, but is made up of unique regions and diverse histories that render them difficult to compare in many respects. Rahman noted that states have widely varying urbanization rates, GDPs, and agricultural presence which explain regional inequality. Rahman proposed that strategies for non-agricultural sector development and diversification of current safety nets should be integrated into growth policies.
While undernutrition remains a problem in some parts of India, obesity is on the rise in others, explained Post-Doctoral Associate Anaka Aiyar, who proposed several strategies to combat overnutrition, including taxing unhealthy foods. Additionally, Aiyar proposed that moving away from a single pan-India approach in addressing nutrition challenges, improving household access to diet diversity and reducing intra-household inequities in access will be important measures towards removing the triple burden of malnutrition in the long term.
Tata-Cornell Assistant Director and co-author Mathew Abraham outlined the need for expanding crop diversity beyond staple grains. While demand has increased for more nutritious items such as fruits and vegetables, markets have not kept pace in making them available and affordable, he said, and food systems must commercialize and modernize in response.
To address droughts, floods, and other climate change impacts hitting agriculture and rural areas, he recommended a combination of conservation, community action, and technology. "India will become the most populous country in the world by 2030, and technology is going to play a crucial role in feeding India," he said, including crop biotechnology: "What we need are crops that are resilient—drought-resistant crops, flood-resistant crops, heat-resistant crops."
Pingali argued that policies focused around staple grains and poor market infrastructure for non-staples were inhibiting the diversification of the food system. He also proposed that small farms aggregate into producer groups to reduce transaction costs for accessing value chains. "As you look forward, small farmers need to be part of this process of change, part of this process of growth. But that can only happen if the transaction costs associated with linking into markets are reduced substantially," Pingali said.
President-elect of the International Association of Agricultural Economists Uma Lele noted India's food system has many seeming paradoxes, including "scarcity within plenty" and "rapid growth without rapid poverty and hunger reduction." She observed that lagging states are experiencing a calorie deficit and agriculture-led states are slowing in productivity, even as urbanizing states are seeing a rise in obesity. Overall, she said, the diversification of agricultural production is advancing far too slowly and failing to keep up with growing demands for dietary diversity. India also needs a stronger response to the looming impacts of climate change. Overall, Lele said, India should develop a comprehensive agricultural policy that will promote dietary diversity and a nutrition-secure future for India.
Quick Links
By Maria Garcia 
Maria Garcia is an IFPRI Communications Intern. This blog originally appeared on the IFPRI Blog: Event Post.