Notes from the Field: Counting Tomatoes and Making New Friends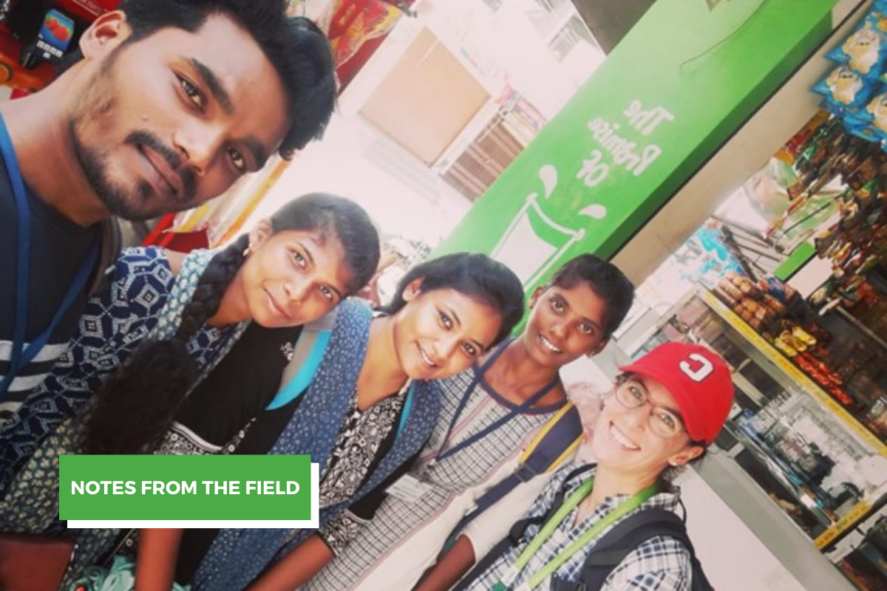 This blog post is part of TCI's "Notes from the Field" series, which explores the personal side of the field-based research performed by TCI scholars as part of their graduate studies.
Eight thousand, two hundred and fifty miles from Ithaca, NY, I finish my morning coffee and "open up shop" to welcome my data collection team. We review the plan for the day, and they are off to collect data on food loss at tomato farms and the Madanapalle tomato wholesale market. Meanwhile, in Hyderabad, a second team has started their day visiting vegetable wholesale markets and retail outlets in the city.
From November 2018 to October 2019, I stayed in Madanapalle, a small city in western Andhra Pradesh, India. A two-bedroom apartment, strategically chosen for its proximity to the tomato market, served as headquarters for my dissertation project on food loss and waste in tomato value chains.
My fieldwork added another challenging layer to an already challenging PhD program. At the same time, this opportunity to spend an entire year in the field helped me to develop important management skills.
My initial few weeks in Madanapalle felt incredibly isolating. Just over one month before, in late September 2018, I had presented my study proposal with a neatly arranged implementation schedule laid out. By November, I already felt behind.
My first and lasting challenge was the fact that I do not speak Telugu, the language spoken in Andhra Pradesh. My second challenge was my lack of any staff; this one I could resolve first.
Through my Cornell network, I was connected with Alphonsa, whom I hired as the project coordinator. Alphonsa quickly became more than a coordinator and helped me to navigate life in Madanapalle, from negotiating the purchase of furniture and supplies to arranging water deliveries.
Over the first weeks of training, Alphonsa and I got to know each other, talking about our respective lives in Madanapalle and Ithaca. We had shared interests in food and cooking. Each day at work, Alphonsa brought lunch and always made sure to have enough to share with me. I appreciated having home-cooked meals. Her lemon rice with peanut chutney was my favorite and I still make her recipe at home.
When Christmas came along, Alphonsa invited me over for dinner, which ended with her signature rasmalai cake. After spending Thanksgiving alone, having a holiday dinner with a new friend felt truly welcoming.
In early 2019, we finished hiring the full team in Madanapalle and began their training. Leading this project was my first experience in such a management role. I knew that my management approach had to emphasize communication between the 10 data collection staff, two supervisors, Alphonsa, and me. The challenge? When problems come up, no one wants to be the bearer of bad news or, worse, get blamed for them.
During training, I explained that I would ask a lot of questions, and I expected everyone else to ask me a lot of questions. Asking questions signaled that my staff were taking the initiative to confirm their understanding and thinking critically.
I encouraged my team to communicate whenever problems came up. In my experience, big problems tend to start out as small problems. We agreed to address problems collaboratively, as a team. 
Over the weeks and months, the team began to trust the process. We all gained mutual confidence in each other as we asked questions and solved problems. I found that this management approach helped to reduce barriers that sometimes arise in a strictly hierarchical setting and created a positive team dynamic. It was not uncommon for team members to stick around after work and chat with each other as new friends.
Knowing that I was away from my family and friends, my staff showed me an incredible amount of empathy and support. On the days when I missed home a little bit more, I always looked forward to seeing my staff. I appreciated their willingness to learn new skills, to step out of their comfort zones and work through challenges, and to share many plates of biryani together.
This year of fieldwork was the most challenging part of my PhD experience. I learned to manage a project while also navigating a new environment far from home. I came away from this experience with confidence in my abilities to adapt to new and difficult situations. As I move forward in my career, I will always keep in mind the value of creating a supportive team environment.
Jocelyn Boiteau is a TCI alumna and postdoctoral associate at the Institute. As a TCI scholar and PhD student, she undertook a field research project on food loss and waste in tomato supply chains in India.
Featured image: Jocelyn Boiteau with her research team in Andhra Pradesh. (Photo provided)