The Role of Women in Water Projects in India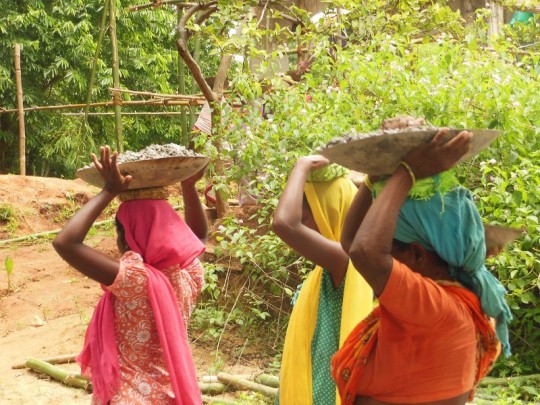 Our partner AguaClara Reach is increasing access to safe drinking water on tap through simple, affordable, gravity-powered technologies. The Tata-Cornell Institute supports their expansion into eastern India (and you can too!). Learn more about women's significant involvement to make these community water projects a success.
When we first landed in India in early 2013, we encountered a world that was an ocean apart from where AguaClara's field experience was first rooted: in Honduras, in the year 2005. Given the success that AguaClara technologies had in this Central American country, the Tata Cornell Institute approached us and urged us to develop a water treatment solution for rural villages in India, starting in the state of Jharkhand. Here, we were asked to develop a treatment system that would be built alongside a water supply network. This would be the first time we planned to work in a community where people were walking long distances to collect water for their homes. While we always recognized the importance of having participation of women in our projects, it was in this new environment, where women bore the burden of collecting water, that the full depth of the role that women play in community water systems was revealed to us.
Women enjoy significant benefits from having drinking water supply in the home, making them critical stakeholders in buy-in stage of the project. Globally, 263 million people spend at least a 30 minute round trip collecting water that in the majority of cases is not safe to drink. In 8 out of 10 households where water collection takes half an hour or more, women and girls are responsible for carrying out this chore. (WHO/UNICEF Joint Monitoring Programme, Progress on Drinking Water, Sanitation and Hygeine 2017) This has huge economic and social impacts that disproportionately affect females. For instance, water collection detracts from women's ability to contribute to income generating work, and it results in girls having lower attendance in schools. Therefore, women quickly see the advantages of investing in water treatment infrastructure and often play a key role in convincing the broader community to undertake construction and long-term management.
Women also play a key role while the project is being built. In India, we are working with partners who conduct masonry training with community members, including women, so they can be involved in the execution and management of construction. Community involvement not only has direct benefits in terms of the longevity of the system — specifically, the community understands their water supply system inside and out and is empowered to manage future repairs — but it has indirect economic benefits in terms of skill development for supplemental paid work. Furthermore, participation of women is critical to successful long-term governance of the system. As in any community resource that is democratically managed, having representation among the different castes, hamlets, tribes, genders, and classes on the Village Water and Sanitation Committee is critical to ensuring high standards of performance, reliability, and equity for all of the water users.
Involving women in major community projects is a common model for interventions in India due to its ability to build confidence and overall community resilience. Many nonprofit and non-governmental organizations work to form all-female Self Help Groups (SHGs) in villages. SHGs are teams of women who pool their financial resources to create a fund that can then be used to distribute loans to members or the larger community. The loans can be invested into endeavors that individuals self-identify as solving a problem they face. By borrowing money for a new project, such as obtaining resources to commence marigold production for sale in the market, the women take control of their own success and, with their improved morale, they become more enterprising. They engage in new self- and community-improvement projects, which grow the revolving loan fund through payback including a small interest rate when the borrower can afford it. This same confidence-building and increased independence is seen in communities that participate in the construction and management of new water treatment systems.
The benefits of having safe drinking water on tap go far beyond improved health. Communities have fewer days of lost work or school attendance due to waterborne illness. Girls who save time in collecting water are freed up to pursue education more consistently, including on days where they would forgo the classroom due to menstruation — for lack of a toilet with running water to address their hygienic needs. Women use their time saved to participate in other village committees or to take on leadership roles, giving them greater representation in the democratic process. The benefits of having safe drinking water on tap strengthen the potential of women and communities as a whole, giving them the strength to take charge of their own futures and the development of their villages collectively.
Spotlight on women operators in Lahanda Village, Odisha
As the group who most benefit from having tap water service, it is not uncommon to find that women take the lead in ensuring not only timely construction, but also reliable, well-managed water supply in the long term.
By AguaClara Reach Team
AguaClara Reach is a 501©(3) nonprofit organization. To support their mission to increase access to safe drinking water on tap globally, give this blog a share and make a donation today!
Note: This blog originally appeared on Medium.