What's Driving Crop Diversification? Talking to Farmers in Bihar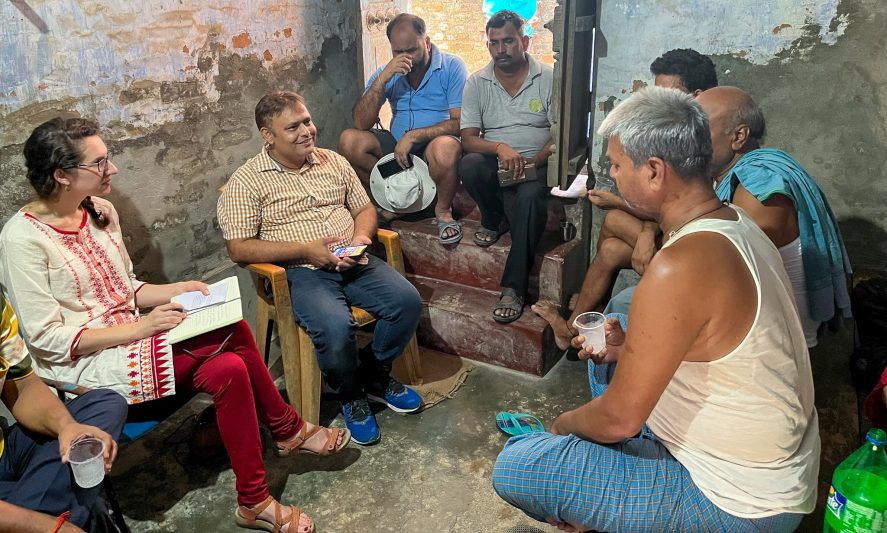 After arriving in Sadaivigha village in Lakhisarai, Bihar, on a hot day in June, Anurag and I followed a field technician, Abhay, to the farmhouse where we would conduct our first focus group discussion of the day. It was my second day in the field with Anurag, a field scientist based at CIMMYT's Patna office who is responsible for field trials in the districts of Lakhisarai and Begusarai. In the farmhouse, Anurag had arranged for me to meet with a group of large-scale farmers. They had each diversified their crops in the past 10 years, and I was there to learn why.
Why study diversification?
I was drawn to study crop diversification by the potential that it holds to increase the sustainability of agriculture and improve the health of the landscape as a whole. In the American Midwest, vast monocultures of corn and soy deteriorate soil health, pollute waterways, and severely threaten biodiversity. Meanwhile, in the Indo-Gangetic Plains (IGP) of India, the rollout of high-yielding varieties of rice and wheat during the Green Revolution, along with subsidized irrigation and fertilizers, pushed out a lot of traditional crop diversity.
The IGP, and especially the eastern IGP where Bihar is located, is far from the scale of monoculture seen in the US, partly because of fragmented land holdings and the natural vegetation between them. However, rice and wheat still occupy the majority of the region's cropland, and diversification may have a role to play in improving its soil health and biodiversity.
Diversification also has the potential to improve nutrition by expanding the range of foods available in the market and increasing farmers' incomes. For all these reasons—especially improving incomes—diversification has captured the interest of the Indian government.
Through my research, I want to understand the drivers and outcomes of different types of diversification, to better target future policies and programs aimed at increasing diversification for the benefit of the environment, nutrition outcomes, and farmers' pockets.
The drivers of diversification in Bihar are… diverse
From my first focus group in Lakhisarai, as well as several other focus groups and individual interviews with farmers of various sizes both there and in Begusarai, I learned a lot about some of the ecologies and cropping systems in Bihar, as well as the factors that influence farmers' decisions about what to grow. The factors that came up most often were pests and diseases, labor, irrigation, profit (including minimizing investment), weather, and topography:
In Lakhisarai, pests and diseases in pulses are increasingly impacting yields and requiring more expensive labor for pesticide spraying, leading farmers to shift away from those crops. In Begusarai, another kind of pest—blue bulls, the largest Asian antelope—are ravaging mustard fields and pushing farmers to switch to wheat.
The labor required for harvesting pulses disincentivizes pulse production in both Lakhisarai and Begusarai.
Irrigation is leading farmers in Lakhisarai to shift from pulses to wheat, maize, and vegetables in the rabi (winter) season and from maize to rice in the kharif (monsoon) season. One small farmer in Begusarai said that if she gets access to electric irrigation, she will also consider shifting from maize to rice.
Profit is a big driver in both Lakhisarai and Begusarai, contributing to the pull of rabi maize and vegetables in Lakhisarai, and fueling a shift from kharif maize to soybean in both districts.
Climate change (mainly the changing frequency and intensity of rain) also plays an important role in farmers' crop decisions. In Lakhisarai, flooding, typically an annual occurrence, has become increasingly unpredictable. This means that while farmers sometimes have the option to sow kharif crops, it is very risky. In Begusarai, consecutive years of low rainfall contributed to the switch from maize—which was traditionally intercropped with urad—to soybean.
Weather: In Lakhisarai, susceptibility to intermittent rain (long a problem for pulses) is pushing farmers away from pulses, especially as irrigation and markets open up other options.
Topography is the ultimate factor constraining what is possible in terms of diversification. In Lakhisarai, there is an abundance of tal land—a bowl-shaped landscape where fields are generally flooded for a significant part of the season. In these areas, flooding makes growing crops during kharif impossible. However, in areas closer to the village, where the ground is slightly higher, kharif crops are an option, and diversification is happening in these fields.
Understanding diversification
In India, crop diversification often refers to diversification out of rice and wheat towards more nutritious crops like pulses, fruits, and vegetables. Although I saw movement towards fruits and vegetables in Bihar, I did not see any recent adoption of pulses, except for summer mung bean (mainly because it is sown in land that was previously fallow during this time, so it poses little risk to the farmer). Instead, the shifts I saw in Lakhisarai were away from pulses and towards wheat. In fact, advances in irrigation seem to be leaving pulses behind, encouraging the cultivation of rice, wheat, and high-value vegetables in their stead.
Diversification is complex. Depending on how it's defined, and at what scale, it can either mean increasing the diversity of crops at the farm level or decreasing the diversity at the farm level, as when soybean replaced maize-urad intercropping in Begusarai (which may have resulted in increased diversity at the larger landscape or regional scale). However, so far, the different types of diversification I have heard about in Bihar share the same set of drivers. I am excited to continue my research on this topic and perhaps to discover some different drivers.
Kiera Crowley is a TCI Scholar and PhD student in the field of crop and soil sciences.
Featured image: TCI Scholar Kiera Crowley meets with farmers in Lakhisarai. (Photo courtesy of Kiera Crowley)