10th Anniversary Lecture Series Opens with Ashok Gulati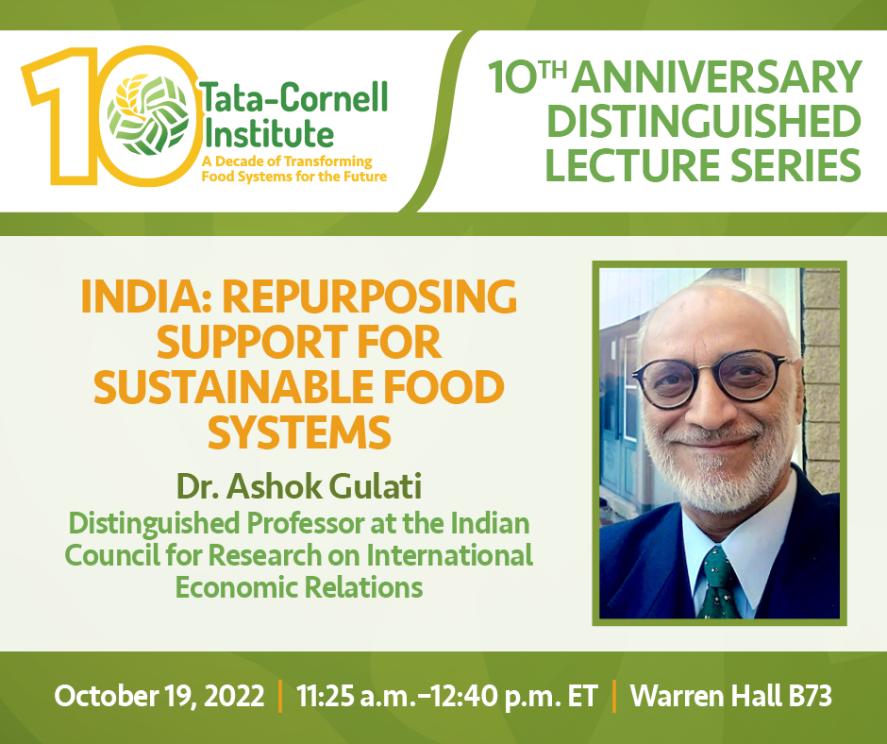 Some of the world's foremost experts on food systems will visit Cornell University this year as part of the Tata-Cornell Institute for Agriculture and Nutrition's (TCI) 10th Anniversary Distinguished Lecture Series.
The lectures will be held in a hybrid format, with virtual attendees participating via Zoom.
The series begins on October 19 with a lecture from Dr. Ashok Gulati, distinguished professor at the Indian Council for Research on International Economic Relations (ICRIER). Gulati's lecture, entitled "India: Repurposing Support for Sustainable Food Systems," will be held in Warren Hall room B73 from 11:25 a.m.–12:40 p.m. ET. Lunch will be provided. Virtual attendees can register to participate on Zoom.
Before joining ICRIER, Gulati was chairman of the Commission for Agricultural Costs and Prices. He was an independent director on the Central Board of Directors of the Reserve Bank of India, National Bank for Agriculture and Rural Development and National Commodity and Derivatives Exchange Limited. He is currently a member of the Tenth Audit Advisory Board of the Comptroller and Auditor General of India, and is an independent director on the Board of Directors of Kotak Mahindra Bank Limited and Godrej Agrovet Limited.
Gulati has been deeply involved in policy analysis and advice in India. From 2001-2011, he served as director at the International Food Policy Research Institute. He was also a member of the Economic Advisory Council of Prime Minister Shri Atal Bihari Vajpayee and of the committee on the Farm Laws appointed by the Supreme Court.
For his contributions to the field of agricultural economics, the president of India honored him with the "Padma Shri" award in 2015.
Gulati has authored 18 books on Indian and Asian agriculture, in addition to numerous research papers published in national and international journals. He is a prolific writer in some of the leading newspapers in India, writing the "From Plate to Plough" column in the Indian Express and Financial Express.