Digital Green Co-Founder Will Give Lecture on Digitizing Rural Networks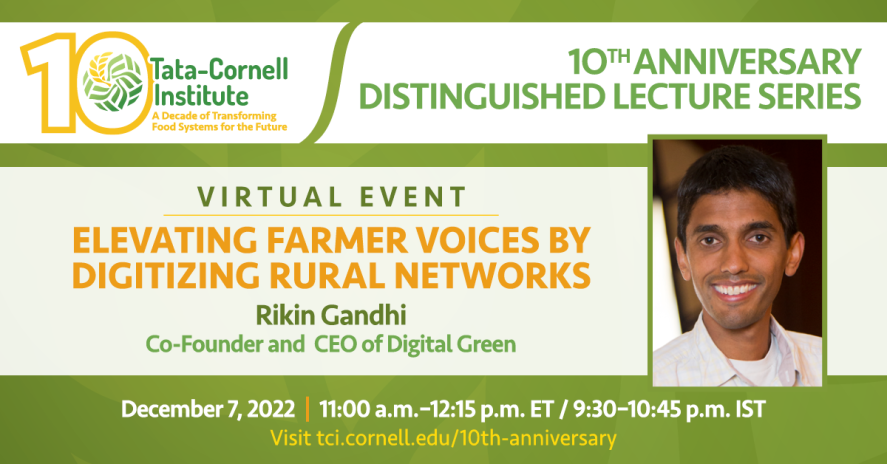 Rikin Gandhi, co-founder and chief executive officer of the development organization Digital Green, will deliver a virtual lecture on December 7 at 11 a.m. EST/9:30 p.m. IST. The lecture, entitled "Elevating Farmer Voices by Digitizing Rural Networks," is part of the Tata-Cornell Institute for Agriculture and Nutrition's 10th Anniversary Distinguished Lecture Series.
The event will be held on Zoom. Those interested in attending can register online.
Digital Green is a global non-profit that is working to create a world where farmers use technology and data to build prosperous communities. Gandhi co-founded Digital Green as a research project on Microsoft Research India's Technology for Emerging Markets team.
After developing the core model of Digital Green's approach to participatory videos to train smallholder farmers in sustainable agricultural practices, Gandhi quantified the impact in a controlled study to show the system can multiply the value of extension officers by over ten times, per dollar spent, of classical extension models. He published his results in papers in the journals Computer, MIT Innovations, and others.
Gandhi holds a master's degree in aeronautical and astronautical space engineering from the Massachusetts Institute of Technology and a bachelor's degree in computer science from Carnegie Mellon University. He began his career at Oracle, researching and productizing a linguistic-based search system for text retrieval that used phonetic similarity and entity extraction for document matching, receiving two patents for the work.
Spending time in India's rural communities changed Gandhi's life. He developed a passion for helping the country's smallholder farmers, whom he sees as heroes. In service of elevating their voices, Gandhi has published a number of articles and books, including co-authoring Nature Sustainability's Socio-Technical Innovation Bundles for Agri-Food Systems Transformation, which constitutes an expert study on the future of local and global agri-food systems. In addition, he has been honored as a TED Fellow and Ashoka Fellow, and won numerous awards from MIT Technology Review TR35 and the Stockholm Challenge, among others.