TCI Helps Students Solve Food Systems Problems at Digital Ag Hackathon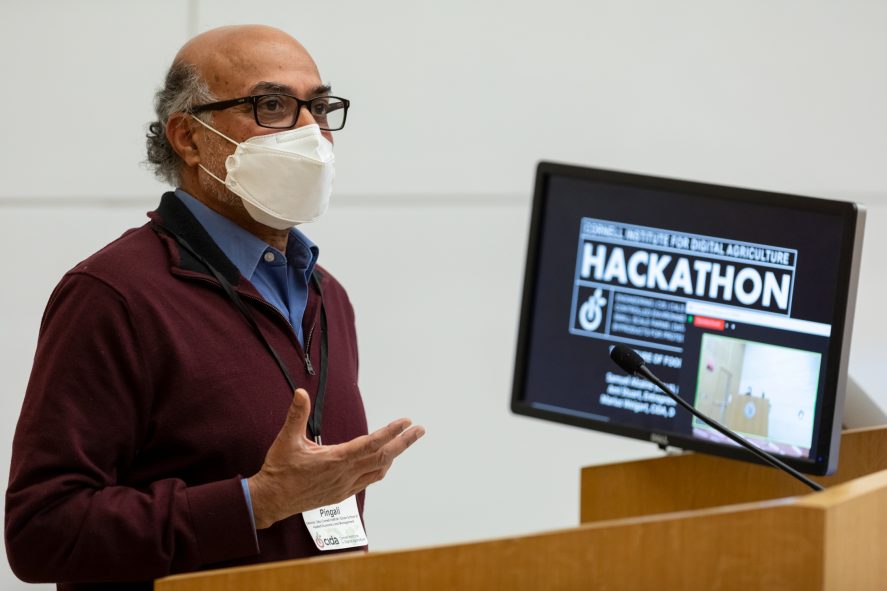 Students representing 28 different fields across Cornell University competed to find the best digital solution to food systems challenges at the fourth annual Digital Agriculture Hackathon, held from March 11-13.
The Tata-Cornell Institute for Agriculture and Nutrition (TCI) cosponsored the event, which was hosted by the Cornell Institute for Digital Agriculture (CIDA). The hackathon is an interdisciplinary event that brings together students from diverse areas of study to solve agriculture-related challenges in a fun and competitive learning environment.
TCI Director Prabhu Pingali served as a judge and spoke at the kickoff event on Friday, March 11.
"It was an honor for TCI to take part as a cosponsor of the Digital Ag Hackathon," Pingali said. "Digital technology is a crucial tool for tackling many of the challenges facing modern food systems, especially for small farms in developing countries. Events like these drive interest in this important sector and help drive innovation."
Nearly 100 students participated in the event, forming 17 teams. Each team was challenged to develop a solution to one or more of the hackathon's five "challenge" categories: data-driven crop production; optimizing controlled environment agriculture; reducing waste, byproducts for protection, and agroecology; assisting small-scale farmers; and solving for food waste and safety.
The teams spent the weekend working on their ideas and practicing their pitches. Cornell faculty and representatives from event sponsors, including TCI researchers Mathew Abraham, Shubh Swain, Lesli Verteramo Chiu, and Vanisha Sharma, served as mentors, providing participants with feedback, guidance, and real-world context.
"It was a pleasure to help such students develop and refine their concepts," Abraham said. "Their ingenuity has inspired me to think about digital agriculture in new ways."
On Sunday, March 13, the teams delivered four-minute pitches to a panel of judges, with the top eight teams moving on to the final round. The finalists gave their presentations to an audience of peers and judges, with some teams showing off prototypes.
"All of the teams showed real creativity with their ideas," Pingali said. "It gives me hope that this next generation of scholars, practitioners, and entrepreneurs can make real progress addressing the many difficult issues facing food systems."
Five teams shared more than $8,000 in prize money. The grand-prize-winning team developed a platform to connect Ghanaian cocoa farmers with transporters and vendors using the internet and short message service.
Read more about the hackathon in the Cornell Chronicle.
Featured image: TCI Director Prabhu Pingali speaks during the kickoff event of the 2022 Digital Ag Hackathon. (Photo by Simon Wheeler for the Cornell Chronicle)