TCI Welcomes Two Visiting Professors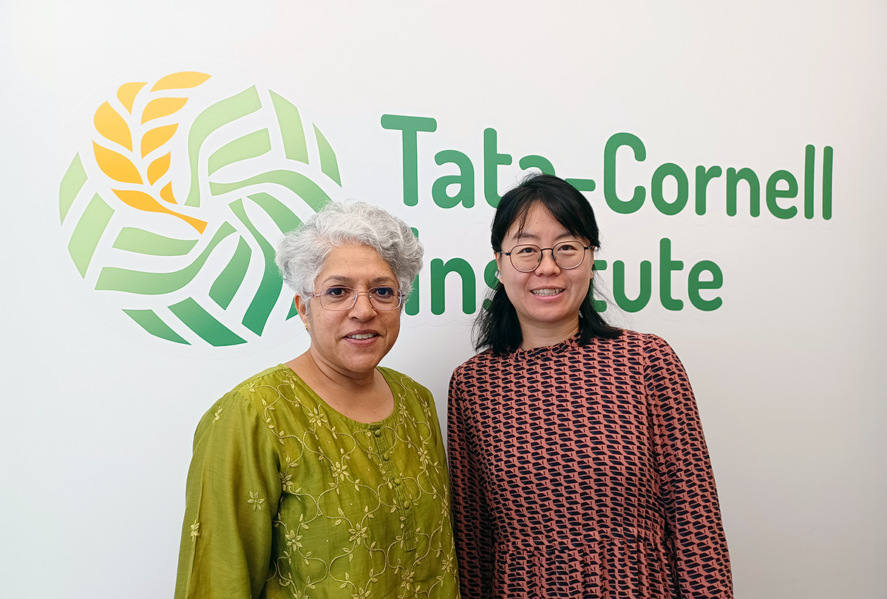 Two economists have joined the Tata-Cornell Institute for Agriculture and Nutrition (TCI) as visiting faculty members. Madhura Swaminathan, a professor of economics at the Indian Statistical Institute in Bengaluru, will be at TCI for the fall 2023 semester. Ting Meng, an associate professor at the Academy of Global Food Economics and Policy in the College of Economics and Management at China Agricultural University in Beijing, will be at the institute throughout the 2023-24 academic year.
Swaminathan has worked on the issues of food security, agriculture, poverty, and inequality for over 30 years and has authored more than 10 books and dozens of journal articles. Her most recent edited volume is Women and Work in Rural India. She was a member of the Government of India's High-Level Panel on Long Term Food Security and served on the United Nations Committee of Development Policy.
Swaminathan will deliver a seminar entitled, "Food Security in India: Issues and Concerns," on Tuesday, September 27, from 12:20-1:20 p.m. in Emerson Hall 135. It will also be available on Zoom. The lecture is part of the Cornell University Department of Global Development's Perspectives in Global Development Seminar Series.
Meng's research interests are agricultural economics and environmental economics, including sustainable technology adoption, nonmarket evaluation of environmental policy, and climate change and agriculture. She has coauthored more than two dozen journal articles.
While at TCI, Meng plans to pursue a research project titled "Transforming Agrifood Systems for Sustainable Development: A Comparative Perspective of China and India."
Featured image: Madhura Swaminathan and Ting Meng joined TCI as visiting faculty in September 2023. (Photo by Dan Verderosa/TCI)