Three TCI Scholars Graduate with PhDs, MPS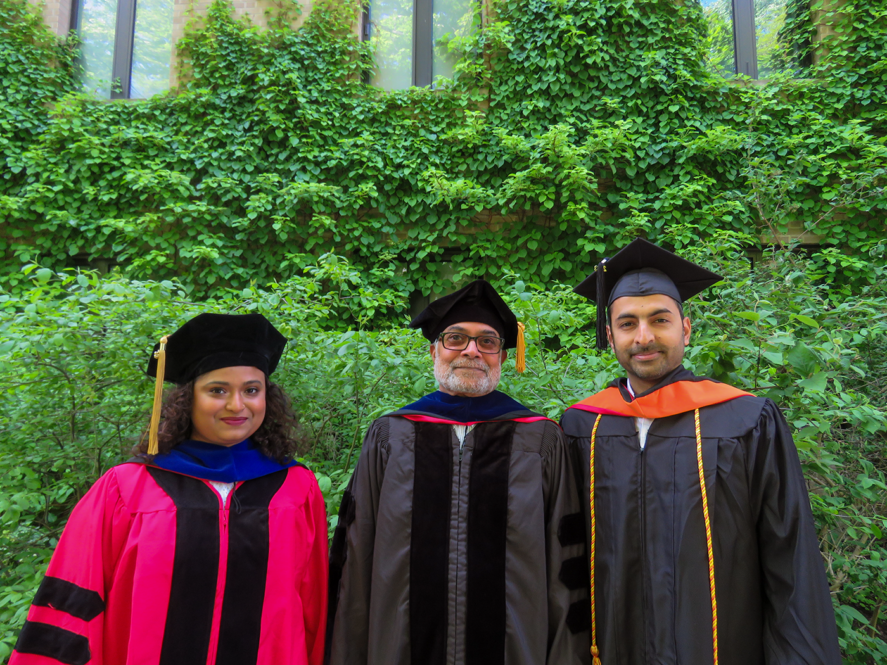 Three TCI scholars received their degrees during commencement ceremonies at Cornell University on Saturday, May 27.
Natasha Jha and Anna David Thottappilly each received PhDs in applied economics and management from the Dyson School of Applied Economics and Management. Tanuj Chawla received an MPS in information science from the Ann S. Bowers College of Computing and Information Science.
During her time as a TCI scholar, Jha's research focused on topics including the impact of minimum support prices on agricultural products in India and the role agriculture plays in arsenic contamination of groundwater. She is the coauthor of a forthcoming study that shows alcohol prohibition in Bihar, India resulted in a drop in violent crime. It is due to be published in the journal Economic Development and Cultural Change in 2024. Jha is set to join the University of Notre Dame as a postdoctoral researcher.
Thottappilly's research ranged from explorations of the income pathway to improved nutrition to the impact of changes in atmospheric carbon dioxide on agricultural productivity.
Chawla was a TCI staff member prior to beginning his MPS studies. He spearheaded TCI's creation of the Farmer Producer Organization (FPO) Platform for India, an online database and platform with comprehensive information on FPOs in India. He will rejoin TCI as a staff member to continue working on that project.
Since TCI's founding in 2013, 17 TCI scholars have earned PhDs, while six earned master's degrees.
Featured image: From left to right: TCI Scholar Anna David Thottappilly, TCI Director Prabhu Pingali, and TCI Scholar Tanuj Chawla. (Photo by Dan Verderosa/TCI)