Promoting Millets in the Public Distribution System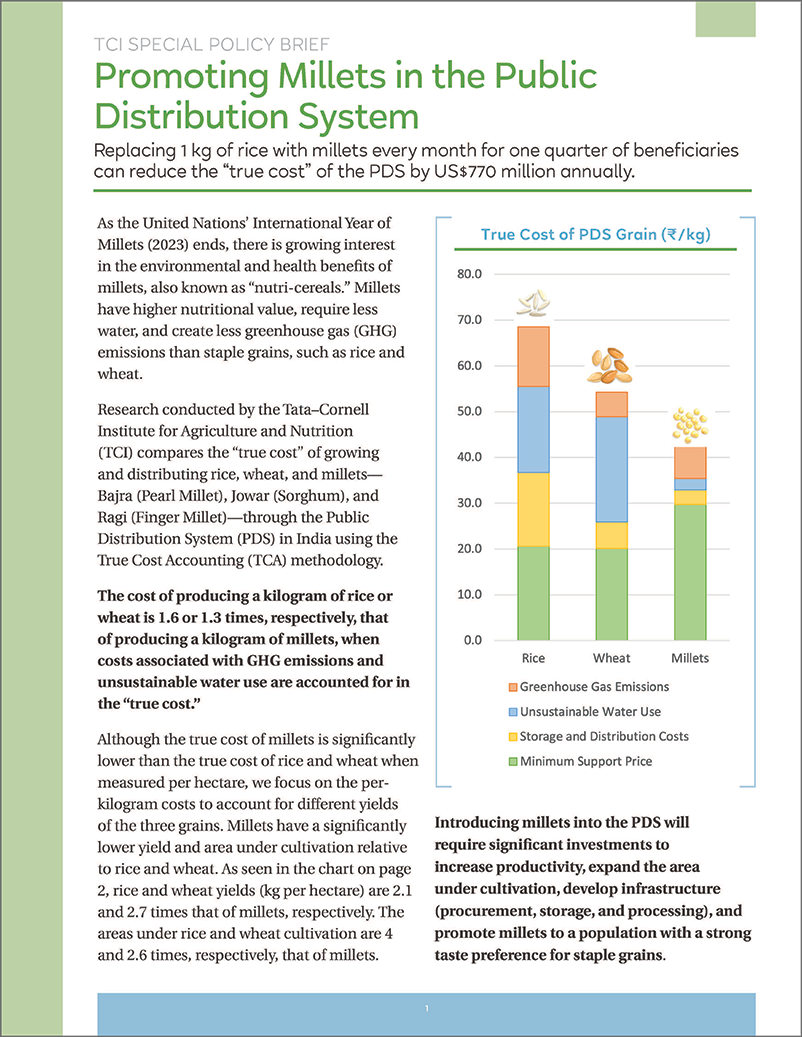 This special policy brief provides cost-saving estimates associated with the potential introduction of millets into India's Public Distribution System (PDS), which provides subsidized food to more than 800 million people. This analysis provides policymakers and other stakeholders with valuable information that can be used to make the PDS more efficient, sustainable, and nutrition-sensitive.
Diversifying the PDS lowers costs
The PDS cost the Indian government US$13.8 billion in procurement, storage, and transportation costs in 2019-20. TCI research revealed an additional US$6.1 billion in environmental and health impacts. Because of centralized procurement and an emphasis on rice and wheat, these impacts are disproportionately felt by a handful of states in northwest India.
The cost of producing a kilogram of rice and wheat is 1.6 and 1.3 times that of producing a kilogram of millets when costs associated with GHG emissions and unsustainable water use are accounted for in the 'true cost.'
Replacing 1 kg. of rice with 1 kg. of millets for a quarter (~200 million) of PDS beneficiaries would result in roughly US$770 million in savings, primarily due to a reduction in greenhouse gas emissions and unsustainable water use. US$110 million would be saved in costs associated with buying and distributing food grain.
The inclusion of millets would provide multiple benefits in addition to reduced environmental impacts. Millets have a higher nutritional value than rice and wheat and could confer health benefits to PDS beneficiaries. Including millets in the PDS can also promote local production and procurement of food grain, reducing transportation costs and improving farmer livelihoods in western and central India, where millet production is focused.
The True Cost of Food Subsidies in India
This policy brief was published as part of the True Cost of Food Subsidies in India project, which uses a "true cost accounting" approach to measure the costs and societal impacts that are not counted in the PDS budget to provide policymakers with a clearer picture of the program's costs and benefits. Future work will quantify the production- and consumption-related impacts that the PDS has on health, environment, biodiversity, economy, and livelihoods, in addition to comparing those costs with the cost of alternative PDS baskets emphasizing local procurement and more nutritious foods.
This project is supported financially by The Rockefeller Foundation. The findings and conclusions shared as part of this project are those of the authors and do not necessarily reflect the positions or policies of The Rockefeller Foundation.