Past Project: Technical Assistance And Research For Indian Nutrition And Agriculture (TARINA)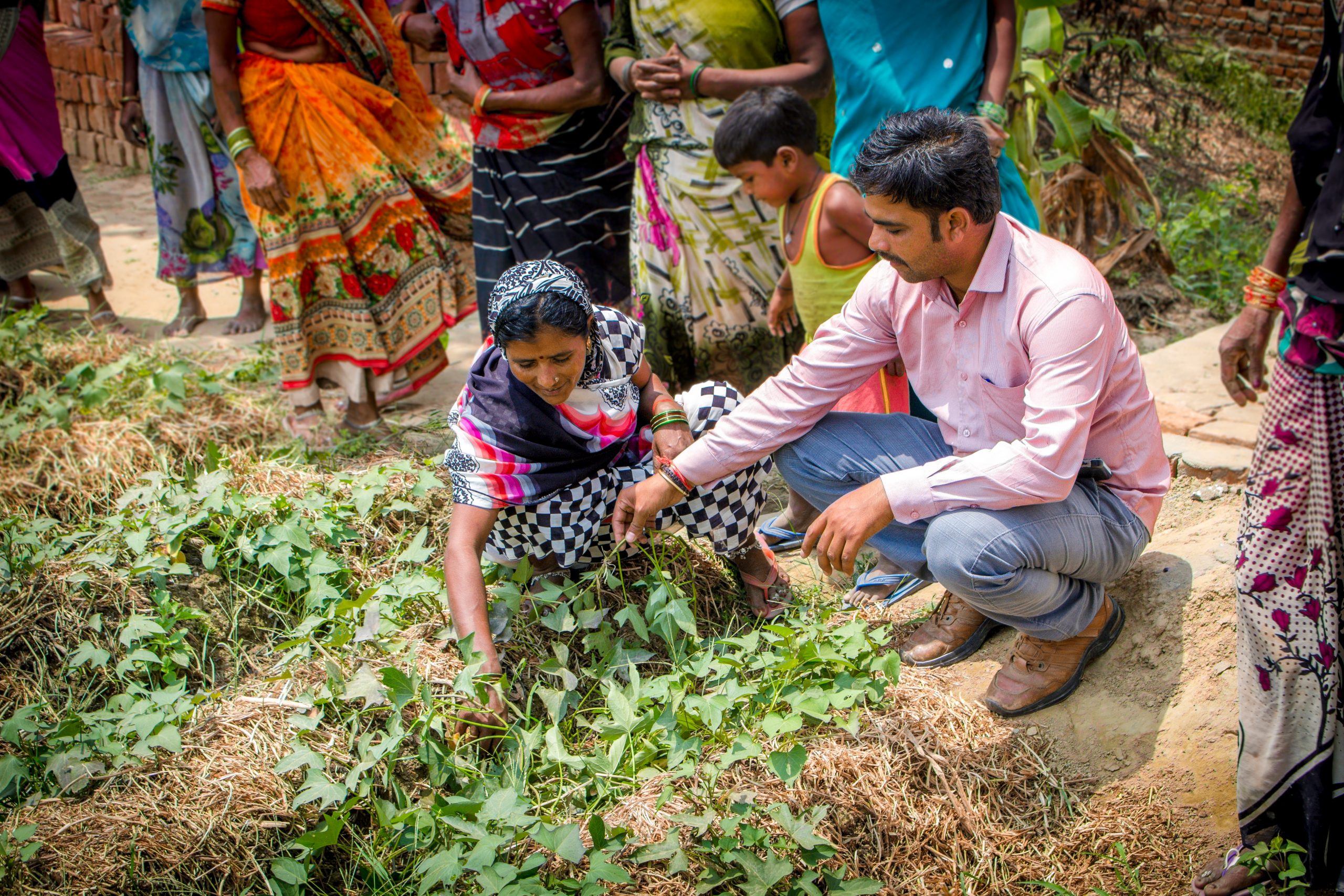 TCI's flagship project, Technical Assistance and Research for Indian Nutrition and Agriculture, or TARINA, was a consortium that brought together policy-focused academics from diverse disciplines with scale, quality, and impact-focused non-governmental organizations to design and implement data-driven solutions for addressing the complex problem of malnutrition in India. TARINA aimed to redirect agricultural policy away from staple grain fundamentalism toward a much broader food systems focus, which considers the need to build better connections between factors that influence agricultural production and factors that influence nutrition.
A Lasting Impact
In roughly five years, TARINA-related projects served 15,315 households in three critical states of eastern India: Bihar, Odisha, and Uttar Pradesh. As a result of such projects, the number of households producing nonstaples, like pulses and oilseeds, increased from 30% to 68%, livestock farming increased from 60% to 72%, and the adoption of homestead vegetables increased from 11% to 40%.
The on-the-ground success of these projects have translated into policy changes at the state level. For example, TARINA practices for intensifying the production of pulses have been adopted by 44 Krishi Vigyan Kendras (agricultural extension centers) in Bihar, while models of crop-specific women's collectivization, piloted under TARINA, have been integrated into the Uttar Pradesh State Rural Livelihood Mission. TARINA's kitchen garden model is now used in 1,594 tribal residential schools in Odisha.
TARINA also produced an abundance of new evidence in support of improving nutrition outcomes. Researchers affiliated with the project produced more than 10 articles published in peer-reviewed journals as a result of TARINA programming, in addition to editorials in leading Indian newspapers.
Though the TARINA program has concluded, its impact persists in India and in the broader community of food systems researchers and development practitioners. Through the households that it engaged with directly, the programs it built that were adopted by local governments, and the research it produced, TARINA leaves behind a strong legacy of building and strengthening nutrition-sensitive food systems.
Center of Excellence
Established under TARINA, TCI's Center of Excellence in New Delhi supports nutrition-sensitive agriculture in India through evidence building, capacity development, and advocacy. It is also a hub for national and international experts working on agriculture and nutrition. The Center provides high-quality products and services, such as research papers, databases, policy briefs, training manuals, workshops, and policy seminars.
While the Center of Excellence was founded as a part of TARINA, it continues its work under the aegis of TCI.
Visit the Center of Excellence
Publications
In the course of its work, TARINA produced district factsheets, policy briefs, and training manuals on topics ranging from women's empowerment metrics to governance issues in farm aggregation models. Additionally, studies based on TARINA research projects have been published in scholarly journals. All TARINA publications can be found on the TCI Publications webpage.
About TARINA
TARINA was created with a $13.4 million grant from the Bill & Melinda Gates Foundation to promote a more nutrition-sensitive food system in India that enhances the availability and affordability of diverse, high-quality, and nutrient-rich foods for rural communities.
To achieve this goal, TARINA pursued three main objectives:
Provide technical assistance in redesigning agricultural projects to ensure nutrition outcomes at scale.
Provide assistance and evidence for policy reform that enhances diet quality at affordable prices.
Build capacity to design and implement nutrition-sensitive agricultural programs and policies.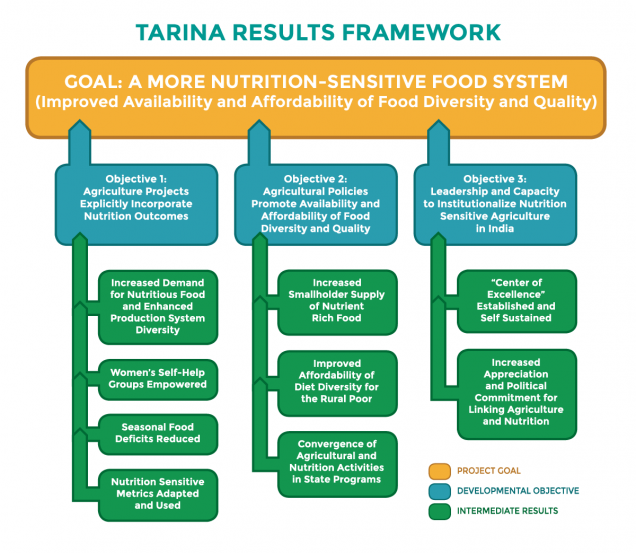 In support of those objectives, TARINA provided field-based, technical support to redesign agricultural and rural development initiatives implemented by non-governmental organizations and development partners in Bihar, Odisha, and Uttar Pradesh. It also actively engaged with the government and other stakeholders, both at the state and national levels, on strategic policy issues.
Partners
Led by TCI, the TARINA consortium linked the research capacities of Cornell University, Emory University, the International Food Policy Research Institute (IFPRI), and the Tata Institute of Social Sciences (TISS) with the technical capacities and implementation experience of leading NGOs – BAIF Development Research Foundation, CARE India Solutions for Sustainable Development, and Grameen Development Services (GDS). Tata Trusts, India's largest philanthropy, supported the consortium through its influence with policymakers and by being a front-runner in generating demand for technical assistance to proactively integrate a "nutrition lens" into the agricultural projects and programs they fund. Tata Trusts also provided funding to GDS to support project activities in Uttar Pradesh.
The "heads of agencies" from consortium partner organizations formed TARINA's steering committee, which ensured that activities and outcomes were consistent with the project's objectives. Representatives from partner organizations also formed a management committee charged with overseeing project implementation and coordinating activities across partners and field locations.
Annual Reports