Operationalizing panel data collection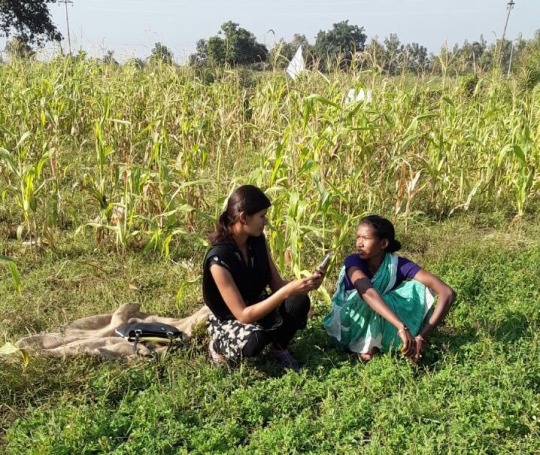 From last year, I have been working on my PhD dissertation thesis that focuses on the effects of women's time allocation in agriculture on their nutritional status.  The sample for my study comprises of 1920 individuals from 24 villages in Chandrapur district of Maharashtra, India. Primary data on dietary intake, 24 hour time use, anthropometry, health and income variables are being collected as a part of the survey. To capture the time use patterns in every agricultural activity, the same household has to be revisited several times for the purpose of data collection (high frequency data / panel data). This calls for a HUGE operational task!
I have learned about project management  just as much as I've learned about research in these past two semesters. Good research and data collection is not possible if logistics, operations and human resources are not managed properly. I write this blog to share some of my key learnings while administering this panel data research project.
1. Team Team and Team!
To start off, I went with an all women enumerators because my primary respondents are women. This is really important to understand because there might be a response bias ― or worse, women could refuse to respond ― if the questions were asked by men.. Second, hire locally! One cannot underestimate the potential of local talent when it comes to field research. The best talent to hire are students in social work, marketing and management degrees. The reason is these degrees come with HR management skills and that is key for work that relies on extensive social interactions. While conducting recruitment interviews, we designed questions related to inter-personal skills, level of independent thinking (remember the team has to stay away from home for a year!)  and crisis management. Experience matters to some extent but it doesn't matter if the personnel have the right attitude towards research and social outreach within their work. Third, I find that young people have been better enumerators because of their high motivation levels and ability to learn new things. Fourth, hire supervisors with more experience and qualifications so that they can effectively monitor the enumerators. These supervisors are the underpinning for my survey!
2. Training and motivation
Keeping a team motivated is very important for smooth operations and for eliciting quality responses for the survey. Communicating the questionnaire, conducting mock interviews, practicing through field exercises were all methods used for the training for enumerators. Motivation is a daily process for a panel data collection. Some of the approaches I used were to personally engage them through personnel development modules, interactive debates, and making them think about issues in the society. I also try to help them by instilling the role of "relationship manager" because ultimately they need to develop a relationship with the respondents; after all, they visit the same household again and again. Communicating their role is crucial!
3. Logistics management and use of technology
Conducting large surveys requires a lot of logistics, such as: accommodation for the team, food caterers,photocopy, travel services, village-level contacts and fixers, printer services, stationary and many other small ones. Identifying and managing a relationship with these service providers is equally significant. Once I was able to form that relationship with the local-level resources, they took my work as a priority over others, and happily, things move faster. One new insight I've gained is that it is better  to treat these as relationships rather than simply professional services as I have to work with them for a year. Especially in a cultural setting as rural as this part of Maharashtra, if the relationships remain, then they strike a chord with the service providers.
4. Use of technology
I benefited the MOST by using technology. I trained my team on using WhatsApp, scanning (with apps like CamScanner), emailing, and using google maps. I used the free survey developing software Open Data Kit (ODK) and trained my supervisors  on how to back up data. They send me the data on a daily basis, which really increases the quality of the data and prevents data loss, missing values, etc.
5. Engaging the respondents and village level community
Engaging the respondents is the toughest thing to do in panel data collection. Their level of motivation in giving responses drops as you move along. To keep with it, my supervisors and I work very hard to devise daily strategies. First, identifying the best time to visit a  household is very important. We try to plan our enumerators' schedule around what's convenient for the respondents. In order to accomplish that, we had to establish very strong village-level relationships with those who could tell us the situation in the village. Second, participation in village-level social programs like marriages, social gatherings, etc. is really vital for gaining acceptance from the community.
Third, the enumerators need to play a very critical role in creating a connection where the respondents feel like welcoming them each time they visit. This should be one of the goals of the survey. Valuing respondents' time, remembering their birthdays and giving them hand-made greeting cards, playing with the kids, going to the agricultural fields with them and helping the respondents in day-to-day chores are very, very important for building trust and rapport. By doing so, they are more willing to give of their valuable time. These interactions with the community are really fun and mutually enriching. They keep me and my team totally motivated and we continue to work with the same passion each day.
I thank TCI for giving me this opportunity.
By Vidya Vemireddy  
Vidya Vemireddy is a Tata-Cornell Scholar and a second year Ph.D. Candidate in Applied Economics and Management in the Dyson School at Cornell University. Her research focuses on women's time use in agriculture activities and how that may influence nutrition at the household level. She will continue this fieldwork in Chandrapur, Maharashtra through January 2018.  Follower her on twitter @vvidyasachi.