Researchers Urge Smarter Pursuit of SDGs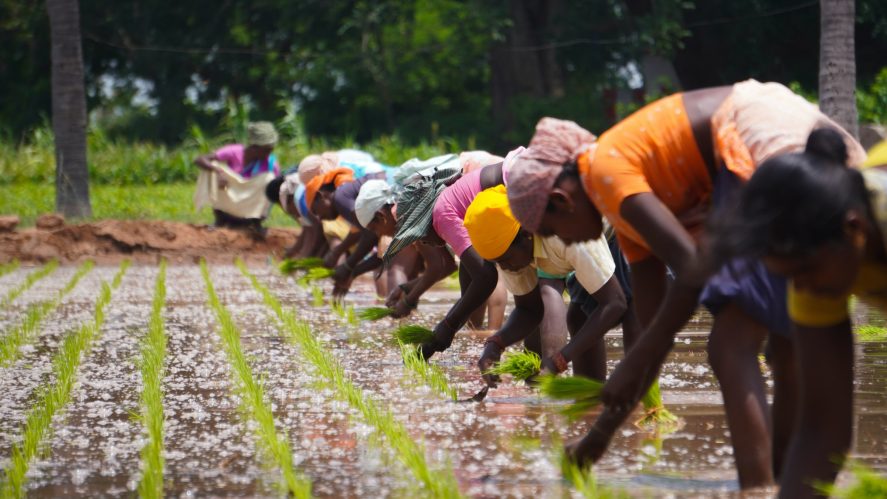 Policymakers seeking to achieve sustainable development goals (SDGs) like zero hunger should be mindful of how the pursuit of one goal can aid or impede progress toward others, researchers for the Tata-Cornell Institute for Agriculture and Nutrition (TCI) say in a new article in the journal Environmental Challenges.
The SDGs are a collection of 17 global goals adopted by the United Nations in 2015 to be a "blueprint to achieve a better and more sustainable future for all." Each SDG has a set of targets that countries are challenged to meet by a given year, usually 2020 or 2030.
TCI Director Prabhu Pingali and Manager for Strategic Initiatives Milorad Plavsic look specifically at target 2.3 of SDG2, which aims to double the productivity and incomes of small farmers to achieve the goal of zero hunger. They note that when productivity increases are pursued without regard to environmental externalities, it can result in increased land degradation, water and air pollution, loss of biodiversity, and other ill effects. These outcomes negatively impact goals that involve environmental conservation and sustainability, such as SDG15.
"When efforts to achieve the SDGs are siloed and improperly informed, good intentions to reach one goal can hamper overall efforts," Pingali said. "To avoid this fate, we need a better understanding of the relationships between the various SDGs and we need better coordination between the agencies pursuing them."
Pingali and Plavsic mapped out the relationship between the SDG2.3 and the other SDGs in South Asia, showing that boosting farm productivity supports some goals and undermines others. For example, while SDG2.3 has a negative impact on SDG6, which intends to ensure clean water and sanitation for all, it has a positive effect on SDG1's aim to end poverty. They also note that other goals can affect SDG2.3 in the same way.
"Robust, timely data is the foundation upon which sound policy is made," Pingali said. "To make progress towards a better and more sustainable future, we must step up efforts to establish metrics and collect reliable data for all SDG indicators."
Even within SDG2, different targets affect each other. For instance, increasing productivity in an agricultural system that focuses on staple grains can make nutrient-rich foods more expensive and less accessible, hampering efforts to reduce malnutrition as stipulated by SDG2.2.
Because of the complex relationships between the 17 SDGs and a dearth of related data, Pingali and Plavsic recommend that policymakers aim to enact SDG policies that have as many synergies with other goals as possible.
For SDG2.3, they propose two high-payoff interventions for minimizing the environmental tradeoffs in South Asia: one a high-level structural change and the other a low-level change in cultivation practices. First, they recommend reorienting agricultural production away from rice and wheat in favor of a more diverse, environmentally sustainable mix of crops. For example, millets are more nutritious than rice and wheat and require less energy and water to produce. Second, they recommend promoting minimum or zero tillage production, which has been shown to increase productivity, decrease costs, and improve soil health.
Pingali and Plavsic stress the importance of clearly defined metrics and high-quality data for measuring the impact the SDGs have on each other. They say that 25 percent of SDG indicators rely on data that is incomplete or outdated and there is no global monitoring for 37 percent of indicators.
"Robust, timely data is the foundation upon which sound policy is made," Pingali said. "To make progress towards a better and more sustainable future, we must step up efforts to establish metrics and collect reliable data for all SDG indicators."
Featured image: Women work on a paddy farm in Tamil Nadu, India. (Photo by Deepak Kumar on Unsplash)