Alumna Pursues Gender and Nutrition Research at TCI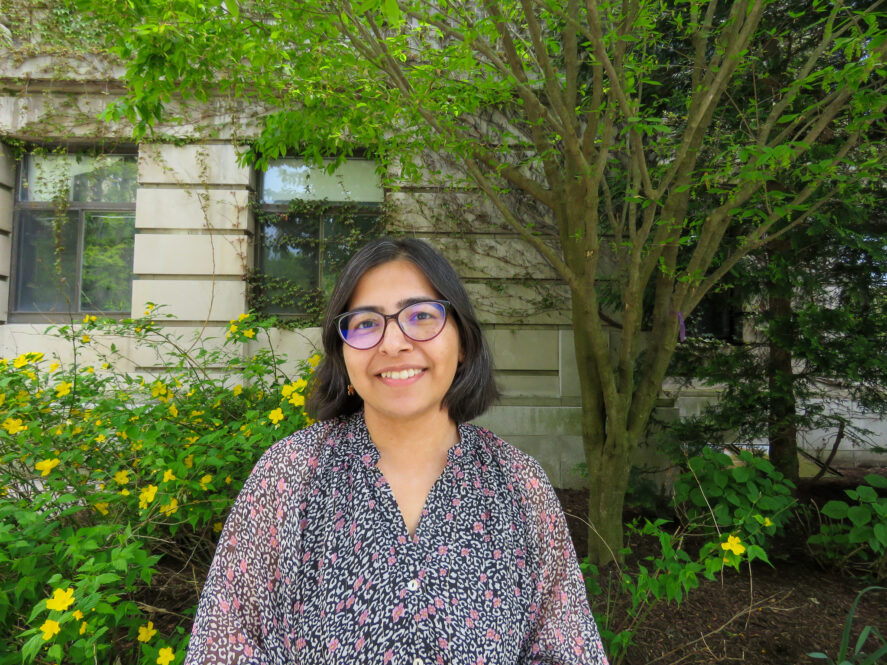 As a young girl, Soumya Gupta would accompany her father to the hospital, where he worked as a doctor. The image of impoverished women waiting for healthcare services in long queues impacted her deeply. She decided that one day, she would do something to improve public health services for women like them.
In graduate school, an internship at UNICEF gave Gupta the opportunity to witness the lives of rural women in Rajasthan, where she saw that they were subject to gender-based social conventions that resulted in inadequately nutritious meals. This convinced her to pursue economic research on women's nutrition as her career, with finding a solution to improve women's nutrition by empowering them as her life's goal.
Today, Gupta is a research economist at the Tata-Cornell Institute for Agriculture and Nutrition (TCI). Her research spans areas including gender, agriculture, food, and nutrition transition. She is at the forefront of research on the affordability of healthy diets in India.
Before she worked at TCI, Gupta was a TCI scholar studying toward her PhD in applied economics and management at Cornell University. As part of her doctoral research, she conducted a field study in Chandrapur, Maharashtra. There, she examined women's empowerment in agriculture and its association with their iron deficiency status, conducting a comprehensive ag-nutrition survey accompanied by blood tests in women to estimate anemia and iron levels. The research showed that women's control over income, food purchases, and farming decisions translates into better nutritional outcomes. Households that chose to raise cash crops because of women's input had lower rates of anemia for women, indicating a strong linkage between cash cropping, income, the ability to purchase food, and women's nutrition.
"Field work comes with its own set of challenges, but I received a lot of support from my dissertation committee when designing the survey and the questionnaire," Gupta said. "While it was a little intimidating to start with, at the end of the one and a half years of fieldwork, I learned so much… it was so enriching and rewarding."
After earning her doctorate, Gupta joined TCI as a researcher. Between 2015 and 2020, she designed and led the surveys for TCI's TARINA (Technical Assistance and Research in Indian Nutrition and Agriculture) program. The initiative aimed to diversify India's food systems by promoting nutrition-sensitive agricultural interventions and influencing policy to ensure the availability and accessibility of diverse foods.
In addition to helping to design surveys, Gupta used her experience from Chandrapur to analyze data from three states—Orissa, Bihar, and Uttar Pradesh—under TARINA. "I looked at women's food intake, women's diet quality, and what are the drivers behind those, including what's being grown and the diversity of production, and market-based factors," she said. "My learnings from the dissertation work in Chandrapur in agriculture and women's empowerment helped me add a lot of value."
After the TARINA project, Gupta took up research on several critical subjects at the intersection of gender and nutrition, as well as child and maternal nutrition and healthy diets. In 2021, she co-authored a research paper in Global Food Security that showed a significant gap between the cost of the EAT-Lancet diet and typical food expenditures in rural India. It was the first time that the cost of the EAT-Lancet diet was estimated for rural India at the district level using the most up-to-date prices.
In 2021, Gupta co-authored a study on the impact of India's COVID-19 lockdown on women's nutrition, which was published in the journal Economia Politica. Her research showed that women's dietary diversity declined during the lockdown due to disruptions in food access and availability. The paper highlighted the importance of gender-responsive safety nets and their increased coverage for improving intrahousehold nutritional disadvantages.
Gupta continues to advance research on gender and nutrition at TCI. Currently, she is using National Family Health Survey data to assess different kinds of nutritional outcomes in women, linking them to structural changes in the Indian economy. Given the rising trend in overnutrition, in the future, she aims to expand her research from undernutrition to obesity.
Featured image: Soumya Gupta at Cornell University in 2023. (Photo by Dan Verderosa/TCI)