TCI to Host Webinar on Climate Change and Agriculture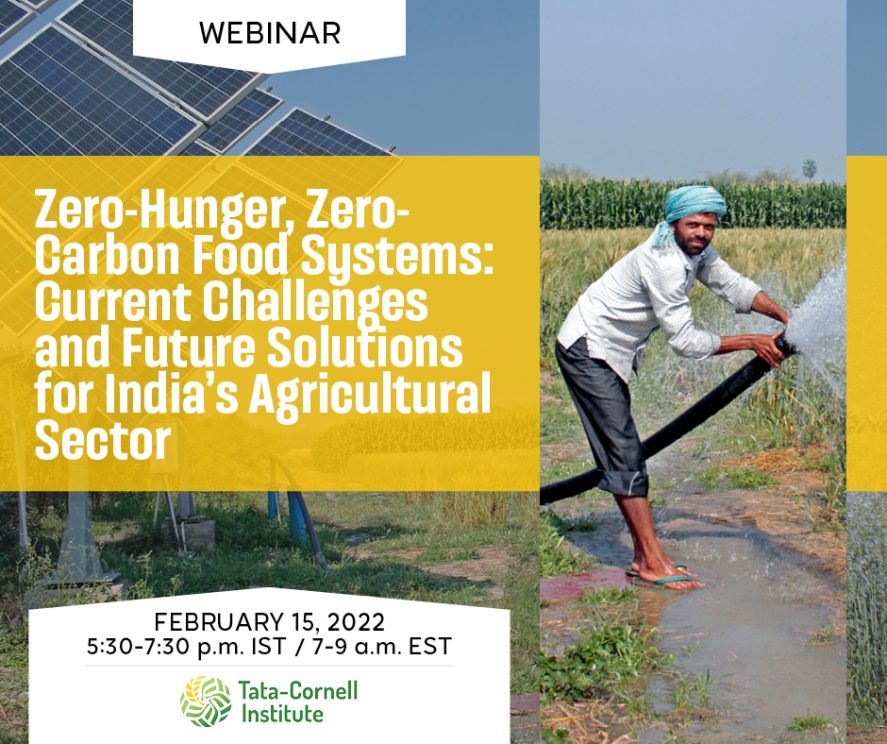 Can India achieve zero hunger while significantly lowering the greenhouse gas emissions associated with its agricultural sector? The Tata-Cornell Institute for Agriculture and Nutrition (TCI) at Cornell University will host a webinar with leading experts to tackle this question and understand the significant challenges in achieving a zero-hunger, zero-carbon agricultural system in India.
Entitled "Zero-Hunger, Zero-Carbon Food Systems: Current Challenges and Future Solutions for India's Agricultural Sector," the webinar will be held on Tuesday, February 15, from 5:30-7:30 p.m. IST/7-9 a.m. EST. Members of the public must register to attend the event.
Speakers participating in the webinar include:
The webinar is part of TCI's Zero-Hunger, Zero-Carbon Food Systems Project, which aims to chart a path for reducing the greenhouse gas emissions associated with agriculture while meeting the nutritional demands of growing populations. The two-year research project will develop accurate and precise metrics to measure the emissions of various agricultural production systems in India. Based on that analysis, researchers will generate a roadmap of mitigation methods designed to decrease emissions without sacrificing productivity.
As India becomes the most populous country globally by 2030, increased agricultural productivity is necessary to meet its food security challenges. However, productivity growth will come at the cost of an increasing environmental footprint from changing energy use in agricultural production, processing, transport, and preservation.
Feature image: Graphic by DragonFish Design Studio. This graphic is a derivative of a photo by Ayush Manik (CC BY-NC-SA 2.0).